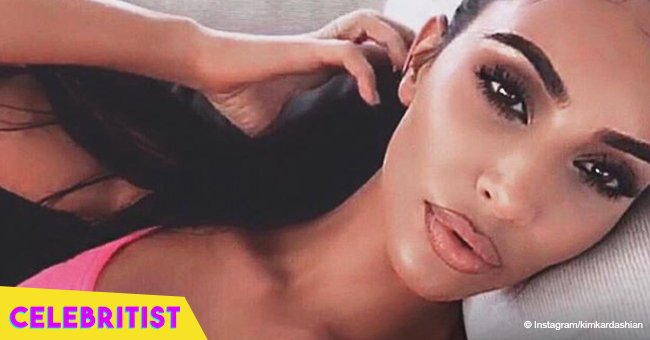 Kim Kardashian gives her baby daughter Chicago a kiss in ocean

Kim Kardashian West, the reality star best known for "Keeping Up with the Kardashians" took to Instagram to share a photo of herself kissing her daughter Chicago at the beach.
In the image, Kim appeared wearing a green bikini while holding Chicago up in the air and kissing her in the mouth. The baby was wearing a blue swimsuit covered by pink flowers evidently happy for being with her mother in the ocean.
Apart from Kim's beautiful body, the clear water, and the wonderful scenery, the reality star's braided hair was very attractive. In the caption, Kim wrote, "My Cherry Blossom Baby," followed by a flowers emoji.
As soon as she uploaded that picture, her followers took to the comment section to share their thoughts.
One of them was @leo_prince_houston, who said that even though it was a great photo of Kim and Chicago, the "crystal clear" water was the highlight. @angel_rojhan chimed in and said that their heart melted with that post.
KANYE WEST'S KISS
Kim is not the only member of the family who has shared photos kissing Chicago as Kanye West, the girl's father and Kim husband, posted one on Twitter that showed him kissing his daughter on her head.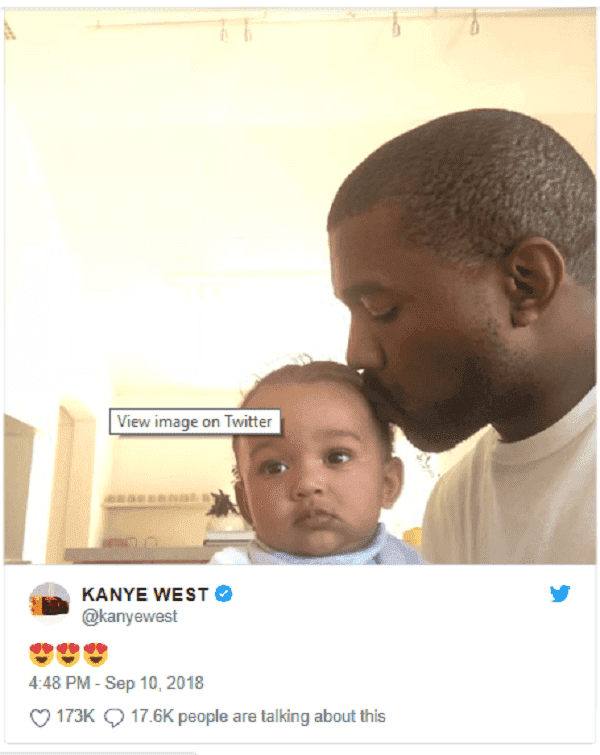 Source: Twitter/kanyewest
CHICAGO'S MIDDLE NAME
As People reported, Kim revealed in August that she would like to give her daughter a middle name. She revealed that Noel was her choice, but Kanye didn't like it that much.
"I haven't really been into middle names, but I really wanted a name that was short— a syllable name. Noel is my middle name, and it's not a one-syllable name, but it's short," admitted Kim.
CHICAGO IS TOO LONG
She added that the name of her daughter, Chicago, was too long and it didn't flow, which is why she calls her Chi. Once the baby gets older, she could decide whether she wants to be called Chicago or Chi.
BABY COUSINS
Chicago and Khloé Kardashian's daughter, True, are almost the same age, which is why they spend so much time playing together. Kim recently uploaded a photo of both girls in a very fun pose.
True was sitting in her baby seat while Chicago was next to her. Both of them were looking at the camera, but Chicago placed her hand on her cousin's arms as if she was saying "I got this, True."
Please fill in your e-mail so we can share with you our top stories!