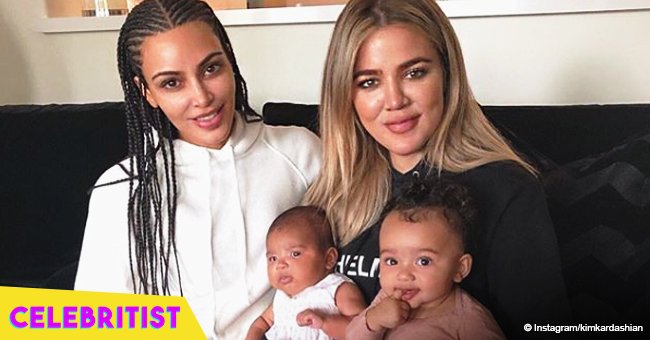 Sweet photo of baby Chicago and True playing together show they are the cutest cousins

Kim and Khloe Kardashian must be extremely happy now that their children seem to be growing up as best friends. Kardashian-West recently shared a photo of their two adorable daughters lounging together as they sat beside one another.
The two Kardashian babies have been spending a lot of time together since the Thompsons have come back to Los Angeles from Cleveland, and what better way to spend their time but with their family members. Given that the Kardashians all live in the same Calabasas neighborhood, it's been easy for the cousins to bond and get to know each other.
Quite happy that True and Chicago are getting along, Kim shared a photo of Chicago holding back her little cousin's baby carrier as they both stared at the camera. Given that the two of them were born just a few months apart with Chicago being born in January and True being born in April, there's no reason for them not to be best friends forever especially since their moms are, too.
Chicago seems to be taking her older cousin role seriously, as she rests her free hand on her cousin's shoulder as if to say "I got you, True.".
Last month, Kim shared a similar photo of the first cousins spending some time together, this time while relaxing in bed. Just like how she and her sister Khloe are best friends for life, she wants it to remain the same for their kids.
"Best friends for life!!!!"
It's not just Chicago that True is close to, however, as she seems to have quite a strong bond with her older cousin Penelope Disick as well. It's been a good choice for Khloe to take True back to Calabasas, especially now that she gets to see her bond with her close-knit clan.
"These are the moments I've been waiting for!!! how blessed am I?!?! P is an incredible photographer! And True is a very good baby model lol (she sort of had no choice)"
Khloe Kardashian, just like the rest of her sisters, has immense love for each member of her family. They treat each other's children like their own, and so heartwarming moments of them spending time with one another give them pure joy. These are the types of moments that their fans always wait for, and they're lucky they get to see it on their show "Keeping Up With The Kardashians".
Please fill in your e-mail so we can share with you our top stories!