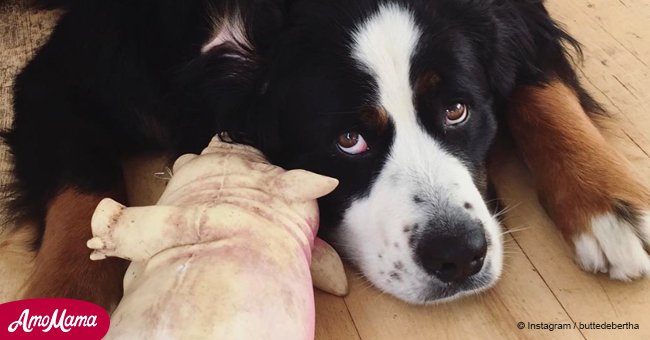 Dog offers most heartfelt apology ever after punching owner's face (video)

A very special dog named Big Bertha has taken the internet by surprise due to her sweet apology attempt after accidentally hurting her owner.
Just like humans, animals sometimes get a little too excited during play time and end up hurting whoever is playing with them and feeling sorry afterward.
That was Bertha's case and she became an online sensation by the way she tried to show her owner that she regretted hurting her, with the video being uploaded to Instagram.
Bertha is a Bernese Mountain Dog and St. Bernard mix, so she is quite a big dog, and her Danish owner, whose identity is yet to be revealed, describes her as being '60 percent brat, 40 percent good girl and 100 percent weird.'
Follow us on our Twitter account @amomama_usa to learn more.
FOREVER A PUPPY
The problem with big animals such as Bertha is that they tend to grow up believing that they are still a small puppy, which can become a problem during playtime.
Bertha is so big that she could easily reach each end of the living room couch if she stretched, and she's not eligible for the featherweight class either.
SHE FELT SO BAD
So, while she was playing with her owner, she accidentally hit her face, leaving a very red claw mark on her cheek. But Bertha quickly realized what she had done and promptly tried to apologize.
In the video posted to Instagram, the sweet dog can be seen looking at the camera and her owner as she flings her heavy paws up and down as if begging for forgiveness.
And if that wasn't enough, she leans against the couch and tries to hide her face by covering it with her own pawn, showing how sorry she is.
LOVE FOR THE LITTLE ONES
Animals seem to have a special connection with human beings when it comes to understanding their feelings, especially dogs. Recently, in Brazil, a dog named Penelope jumped to stardom after being filmed cuddling with her pregnant owner.
The dog can be seen resting her head against the baby bump, something that she had never done before, and showing affection for the new life that was growing. A very sweet moment that was shared around the world.
Please fill in your e-mail so we can share with you our top stories!