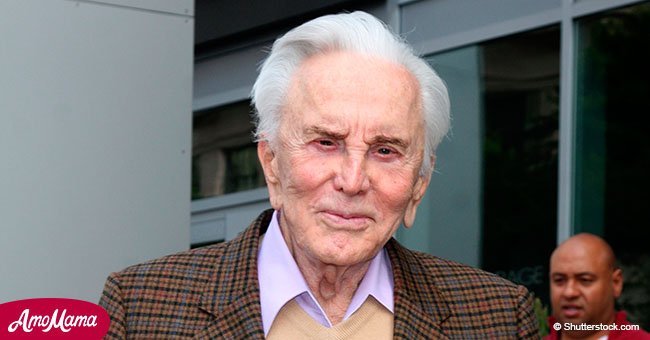 Kirk Douglas shares a precious moment with his great-granddaughter in a sweet photo
Kirk Douglas in a black and white photo next to his great-granddaughter made for an endearing Instagram post. They way they're both looking at each other made it even more adorable.
The picture was posted at the end of August 2018 by Kirk's grandson, Cameron Douglas, 39. The 101-year-old screen legend is paired with 8-month-old Lua Izzy.
Cameron is the son of Michael Douglas, 73. They are both actors. Izzy was born to Cameron and his girlfriend Viviane Thibes on December 18, 2017.
Follow us on Twitter for more @amomama_usa.
The adorable tot wore a loose dress as she raised her gaze towards her great-grandfather. She knelt on the mat in what appeared to be a small living room area.
Interestingly, Izzy is named after her centenarian relative according to Pantagraph. Douglas was actually born Issur Danielovitch. His nickname back then was Izzy before he changed his full name on advisement from a fellow actor.
Dad Cameron and great-granddad Kirk took a picture before in an exceptional multi-generational family photo when Izzy was only three days old.
In the photo, Kirk wore shades and turned his head downwards to look at Izzy as he sat on a chair.
Izzy also reached out one arm towards her great-granddad, while Kirk has both hands hanging down available to her. The connection is heartwarming.
Back when Izzy was just born, her step-grandmother Catherine Zeta-Jones, who is married to Michael, took a touching photo with her granddaughter as well.
The most multi-generational family photo came when both Michael, his son Cameron, half-uncle Dylan Michael, 17, and half-aunt Carys Zeta, 14.
The entire family is a close-knit one. According to Izzy's granddad Michael, his "marriage and family comes before [his] career now."
This comes despite the family's past issues including Cameron's 7-year sentencing for drug possession as well as Michael's battle with cancer.
He also told Closer Weekly:
"Do you know what absolute happiness is? For me, it is to wake up my kids in the morning — these little pieces of innocence — and find they're so happy to see me. It is unequivocal love."
The iconic screen actor Kirk is usually not on his legs as reflected in the photo, but at 101 he is still very able to take walks now and then.
Earlier in August, he was photographed taking a stroll in California. Assisted by two nurses, he used a walking aid to attain mobility.
The "Spartacus" star is known to take efforts to ensure he stays as healthy as possible and keeps his joints agile. HIs son Michael said:
"He still has a trainer. He works out with a trainer at 101."
He also uses Facetime with Michael who said, "it gives him a chance to see." Kirk's zeal for life at his age is quite inspiring.
Please fill in your e-mail so we can share with you our top stories!