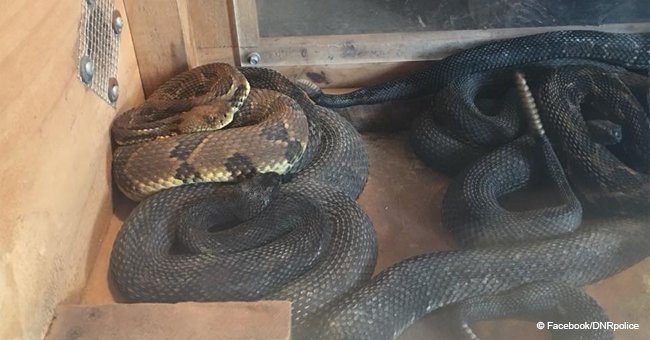 Man arrested after police found 17 rattlesnakes in his house

A West Virginia man with an unusual collection hobby was arrested when police discovered 17 rattlesnakes in his home.
The bizarre incident was brought to light when police received a tip in late August.
The man trapped rattlesnakes in a National Forest in Tucker County. He then returned to his home in Randolph County with the dangerous creatures on him.
Follow us on Twitter for more @amomama_usa.
According to a Facebook post from the West Virginia Natural Resource Police, officers from Tucker and Randolph Counties took collective action.
They went to his home and soon found the snakes in the man's residence.
They charged him with three counts in total. Two counts of illegal possession of a timber rattlesnake, and one count of possession of a rattlesnake less than 42 inches long.
The police returned the snakes to "dens near where they were caught."
West Virginia law forbids possession of more than one rattlesnakes and it "must be 42 inches or greater in length."
The specific size limit is reportedly to safeguard a "steady supply of breeding-age females" since females are usually smaller than the males.
Regardless of size, rattlesnakes are well-known as a venomous species of snake although their bite is highly potent and may not necessarily kill.
Paul Godwin of Arizona avoided getting bit when her dog stepped in to save her from a rattlesnake back in June 2018
.
While taking a walk in Anthem, Godwin almost stepped on a rattlesnake, a common way to get a reaction from the slithering animals.
But her puppy Todd jumped right in front of her and protected her leg which the creature would have went directly to.
Todd, unfortunately, received the dangerous bite that would have went to his owner. Godwin later posted a photo of the results showing Todd's swollen face.
She subsequently updated her followers and informed them that Todd was recovering and is doing well.
Please fill in your e-mail so we can share with you our top stories!