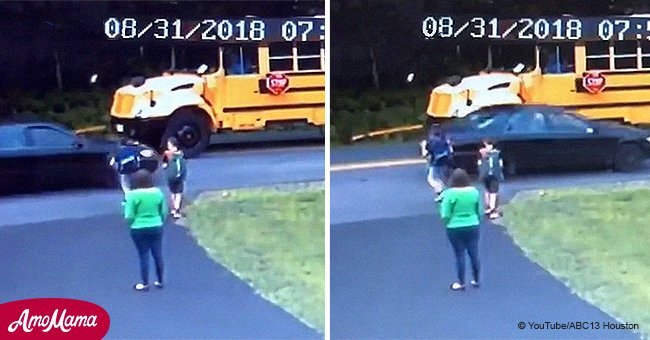 Young boy nearly hit by car after trying to reach his bus
Video footage showed a seven-year-old boy almost struck by a car running on full-speed as he was about to cross the road towards his school bus.
The video, which has now become viral, was grabbed from the surveillance camera outside the New Hampshire residence of the boy's father, David Cota-Robles.
Two young boys were walking along the driveway and were together with David's wife, Lindsay.
The yellow school bus pulled up right across the road and the two boys, carrying their backpacks, were preparing to cross.
Follow us on Twitter at AmoMama USA for more details and updates.
Suddenly, mere seconds later, a speeding car flew past the seven-year-old, which made him jump backward.
The incident happened so fast that the boy barely had enough time to react. The car missed him by a couple of inches.
David soon posted the footage on Facebook to warn other parents about how dangerous it could be for their kids with all the "careless and distracted drivers" on the streets.
The father confessed that he was contemplating for days whether he was going to post the video or not, but decided to go through with it to spread awareness of the dangers of reckless driving especially since the new school year has just started.
"Please share this and make others aware of the dangers of careless or distracted drivers. My son was almost seriously hurt when this driver did not stop for the buses flashing lights. Thank you," he wrote.
As of now, the video has been shared worldwide with people expressing their worry over the dangerous drivers.
Some users also made comments from their observations.
They expressed their disappointment with David's wife, who appeared to be very calm and just stood still despite the almost-accident that happened to the young boy.
In another bus related incident, at least 26 people were injured after a truck collided with a school bus in Colorado.
35 people, consisting of students, teachers, and a driver, were involved in the accident. The school bus was coming back from a trip when a truck crashed into it.
Please fill in your e-mail so we can share with you our top stories!