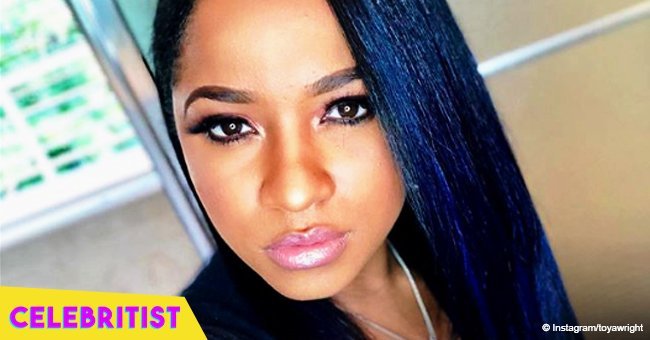 Toya Wright is all smiles in pictures with her daughters 'on pool day'
With daughters as gorgeous as Reginae and Reign, who wouldn't have a pool day photo-session? Reality star Toya Wright did just that and made sure to share the images with her five million-plus followers on Instagram.
The photos showed Wright and her girls serving up different poses as they lounged by the poolside. Wright wore a pink-and-white striped swimsuit while Reginae Carter, her daughter with rapper Lil Wayne, rocked a brown bikini.
Seven-month-old Reign Rushing, meanwhile, looked cute in a miniature version of her mom's swimwear and a matching headband.
One of the images showed Carter playing with her sister, and in a couple of shots, Wright took her baby girl close to the pool where the tot looked delighted.
The three "girls" were pictured together at one point, and the pride on mommy's face was quite evident. In case anyone is in doubt, Wright, 34, is a protective mother that never lets anyone get away with talking trash about her kids.
On more than one occasion, she had fired back at trolls, as she did in May when an Instagram user suggested Carter needs breast implants.
Even though her daughter schooled the non-fan, Wright still reacted, saying "this is why so many young girls have low self-esteem. Reginae you are Perfect baby girl. Do not let these fools tell you no different."
Carter, 19, also takes after her mother's fierce protectiveness, as she displayed back in February when some haters called her sister ugly. The teenager went off in a five-minute long rant that was posted on YouTube, warning people to stop talking negatively about her sister.
"You can call me anything, but about Reign — that is a baby. She can't even say, 'Shut up.' That's what she needs to tell y'all, but she can't even say that yet. So, therefore, don't speak about her. You say she's cute and that's all. That's it. Point blank period."
Trolls will definitely think twice before coming for any of Wright's babies again. The "Growing Up Hip-Hop" star welcomed baby Reign back in February with her partner, sports manager Robert "Red" Rushing.
Last month, Wright shared a series of adorable photos in celebration of their child's sixth month birthday.
Please fill in your e-mail so we can share with you our top stories!