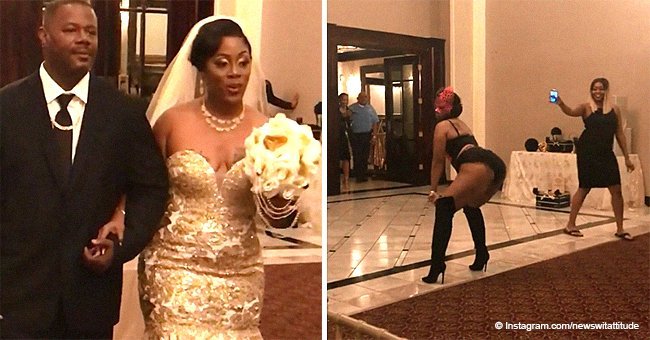 Unbashful bride twerks in revealing outfit and Mardi Gras mask during her wedding reception

The wedding gown came off early for a Texan bride who ditched her traditional dress for a more intimate outfit as she twerked and entertained her guests during her reception. The video of her performance has now gone viral and will go down in history as one of the more memorable bridal acts of this time.
Stephanie Payne knew she didn't want a mediocre wedding when she married the man she's known for eight years, Justin Payne. So after walking down the aisle in a traditional gown in dazzling gold and changing into another white gown for her reception, she decided to make things a little more fun by changing into yet another outfit before performing a surprising number for her guests.
The reception was already on an upswing when the bride and groom first walked into the venue as husband and wife. They did a sexy dance as if they were the only ones in the room.
But the energy hit a notch up later when Stephanie decided to surprise her guests and her husband by changing into a pair of black shorts, a crop top and wore a Mardi Gras mask before re-entering the reception for an action-packed twerk. The honeymoon-ready bride even did a front flip in knee-high stiletto boots, before running into a split on the dance floor in front of her stunned husband.
The crowd went wild, much like internet fans who saw the video of her performance below and shared it with their friends.
Stephanie was still on a high when she spoke to KTRK after her memorable performance and was glad to know she made a lot of people happy.
"I remember all the lights flashing from everybody's cameras, everybody awing and everybody oohing."
"And just the moment I see my husband there. I wanted to wow him and I wanted everybody to be happy."
When she learned that some people found her act inappropriate, she said,
"Why would I want to be like someone else? Where is the action? Where is the happiness? Where is the party at? Where is the celebration?"
"It doesn't have to be mellow. Everything doesn't have to be so mediocre and to keep doing the same thing as tradition. Let's have a real good party!."
It seems brides are now going all out to make their wedding day as memorable and unique as they possibly could. Just this month, another bride drove her groom to tears when she surprised him with a rendition of Elvis Presley's "Can't Help Falling In Love" while walking down the aisle. Escorted by her father, Allison Dyer held on to a microphone as she sang the famous tune to her groom Jason who was tearfully waiting for her at the end of the aisle. Allison has been singing in church since she was two making it an easier decision to sing at her own wedding. Guests who witnessed her romantic walk down the aisle recorded it on video which became a trending topic online soon after.
Please fill in your e-mail so we can share with you our top stories!