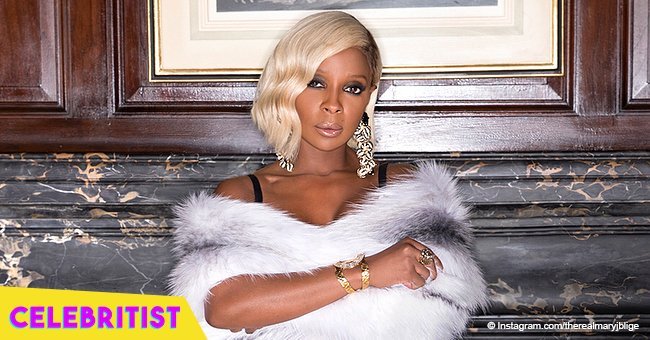 Mary J. Blige, 47, flaunts curvy figure in elegant tight white dress after weight loss

R&B Queen, Mary J. Blige showed she's still very much in the game in an elegant white dress and matching fur wrap. She opened up on the secret to her self-confidence, and it's a very humbling confession.
Posing behind a fireplace, Blige dazzled in a flowing white dress with tiny straps. She paired the piece with a matching fur wrap and accessorized with dangling earrings. Her blond hair was cut sharp and short.
In her caption, the singer revealed that her ensemble was for the prestigious New York Fashion Week:
"#NYFW is always a good time, especially with your friends."
Her fans trooped to her comments with the most glowing remarks, mostly centered around her age-defying figure. One follower gushed:
"Ageless beauty! You are a legend MJB!!"
"I wanna look like this when I grow up," another quipped.
THE SECRET BEHIND HER PHYSIQUE
Blige did not come across her incredible physique by chance. The "Be Without You" hitmaker spilled the beans to SHAPE magazine, detailing her exercise and diet routine:
"My main exercise is cardio. The treadmill is fine but running outdoors gives me the best results. I try to log 6 to 8 miles a week. I could be in the worst mood, but when I do my cardio I feel much, much better."
The 47-year-old refused to use her age as an excuse to slip up with fitness. She simply adjusted her workout routines to suit her body. She mentioned having to complement her cardio plan with some swimming:
"At first it was very hard, but once I got in the water and figured out how to breathe, it was so liberating."
The Academy Award nominee also revealed her diet rules- No sugar, gluten-free, dairy-free, and low carb. And she doesn't do alcohol:
"Others may be able to drink and have a great time, but it doesn't work for me at this point. I haven't had a drink in a year and three months,"
She added.
THE SECRET BEHIND HER STRENGTH
Despite the fact that Blige recently concluded a messy divorce from her ex-husband and manager Kendu Isaacs, she is still going strong.
Aside from the New York Fashion Week, she was also recently spotted at the Black Girls Rock Event where she received the "Star Power" Award.
The nine-time Grammy winner credits her self-confidence to the poverty she experienced while growing up. She noted:
"If you have a lot of money, you can cover up everything. When you don't have a lot of money, it doesn't cover anything. So you learn how to walk through embarrassment and shame. I appreciate it and I'm so grateful for it."
All the best, Miss Blige!
Please fill in your e-mail so we can share with you our top stories!