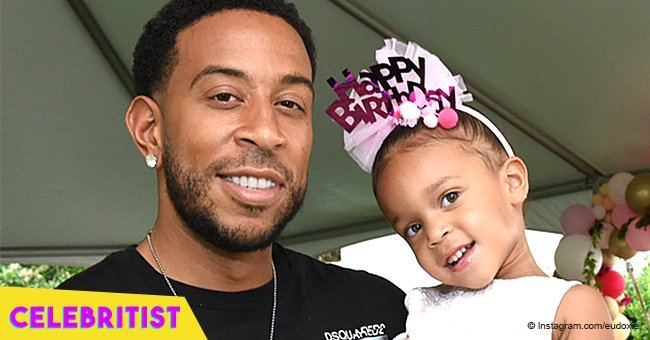 Ludacris' daughter, 3, serenades her father in French for his birthday

Eudoxie Bridges, the wife of the rapper and actor Ludacris, posted a video showing one of the couple's daughters, Cadence, signing "Happy Birthday" to her father in English and French.
In the adorable clip, the girl is shown wearing red and white polka dot pajamas while sitting in what seemed to be her bed with a big stuff animal behind her. She started singing "Happy Birthday daddy" in English and finished saying that she missed and loved him.
Even though she looked happy, she wasn't that thrilled. However, the second short video that showed her sitting on a white couch singing the same song in French set clear how excited she was.
Cadence looked like a completely different person as she sang louder and moved back and forth, proving how excited she is about that language.
For the caption, Eudoxie wrote that her mother sent her the video. She also wished Ludacris a happy birthday as he turned 41 on September 11, and admitted that her daughter was "more hyped" singing it in French.
As soon as Eudoxie uploaded that clip, her followers took to the comment section to share their thoughts. One of them was Instagram user @ny_bred_kg, who pointed out that Cadence "little accent" was lovely.
CADENCE 3RD BIRTHDAY PARTY
In late May, Ludacris and Eudoxie threw a tea party for their daughter where several friends and members of their family were invited. The event was held outside under white tents decorated with pink, gold, and white balloons, reported The YBF.
A couple of celebrities attended the celebration, including Eudoxie's friends LeToya Luckett and Toya Wright, who took her daughter Reign with her. Ludacris uploaded a couple of photos during the celebration admitting that he was not ready for Cadence to grow up.
LUDACRIS AND EUDOXIE CELEBRATING THEIR ANNIVERSARY
Ludacris' wife Eudoxie shared a sweet photo of the two of them kissing in an art exhibit to commemorate their 10th year of knowing one another.
It's been a decade since Eudoxie and Ludacris met, and the two of them made sure to celebrate that day, as it was the start of a lifetime adventure that they would partake together. In the black and white picture, the lovely couple shared a kiss while standing inside a mirrored exhibit.
"Wow! Today marks 10 years we've known each other. We met August 30th Ludaday weekend 2008 but don't get it twisted he didn't get to kiss these lips until 2009. I'm glad we made it work for us because there's no one I'd rather go through this life with. 10 years later and we are better friends, lovers, parents, and partners," wrote Eudoxie.
Please fill in your e-mail so we can share with you our top stories!