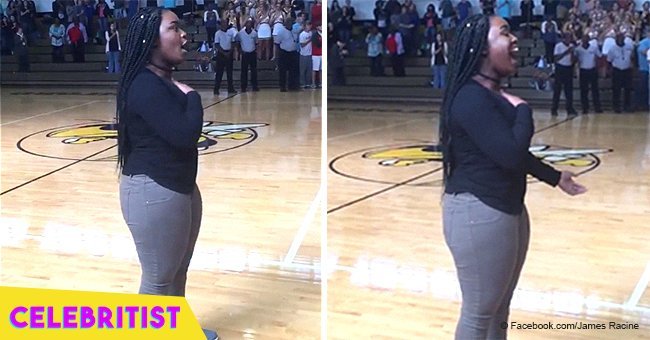 Teen silenced the basketball court, singing national anthem without a mic in viral video

The Central High School in Ashford, Alabama, got very surprised when Christian Melton, one of the students, sang the national anthem with no microphone.
Even though several people would avoid at any cost doing something in front of a crowd, Melton knew that singing the Star-Spangled Banner before the basketball game held in her school was her moment to shine.
Unfortunately, the microphone that she was supposed to use stopped working, so everybody thought that the game would have to start without the traditional anthem.
However, Melton took the risk of singing with no mic, and, using nothing but the power of her voice, she captivated the crowd. Thankfully, there was someone next to the singer who recorded everything, and the video went viral in no time.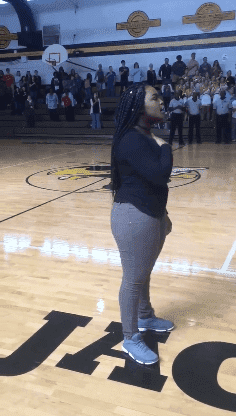 Source: Facebook/James Racine
EVERYONE WAS IN SHOCK
Melton's performance was so good that nobody in the court had problems listening to it. Everyone remained silent while hearing her rendition and, at the end of it, the crowd erupted into cheers.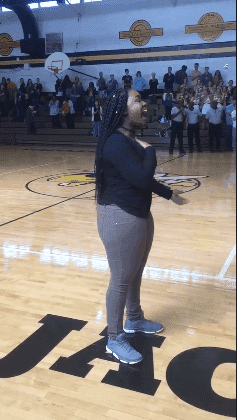 Source: Facebook/James Racine
Once she stopped singing, someone who's very likely to be a close relative, ran toward her and hugged her as a way to congratulate her for such a wonderful and strong performance.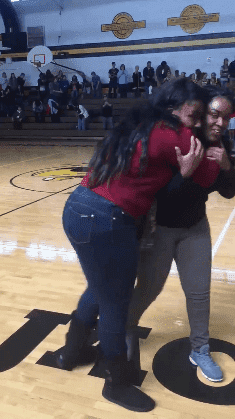 Source: Facebook/James Racine
COMPARISON WITH BIG STARS
As soon as that video hit Facebook, several people took to the comment section to share their thoughts. One of them was Charles Davis, who encouraged Melton to "get ready" as her presentation was better than Whitney Houston's version.
IT IS MORE DIFFICULT THAN IT SEEMS
While the mere act of singing is very difficult, doing so at a louder volume than expected is even harder. During Melton's performance, she never faltered and hit the highest notes with perfection and poise, proving that she has a bright future ahead.
ANOTHER BEAUTIFUL PERFORMANCE
Melton is not the only young girl who has sung the national anthem in such a wonderful way. Coco Jones was one of them, and she did so before a Saint Louis Rams versus Chicago Bears NFL game.
Her voice was so beautiful that people didn't believe it was coming from a nine-year-old girl but a grown woman. Coco became an instant star, and Disney later signed her to be part of their projects.
The first project she worked on was "So Random!" wherein she portrayed Coco Blue for five episodes. Later, she worked on "Good Luck Charlie," another Disney project, for five more episodes.
At the moment, she is focused on "Five Points," a teen drama web TV series broadcast by Facebook Watch.
Please fill in your e-mail so we can share with you our top stories!