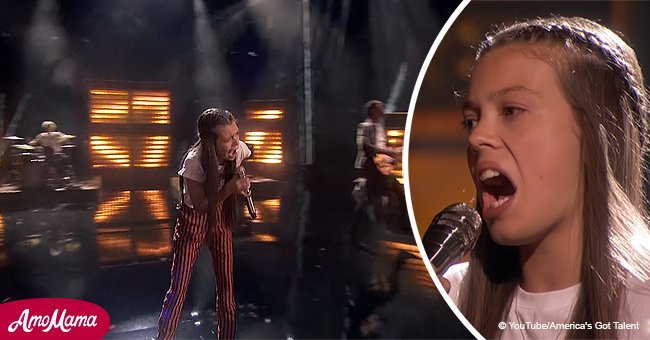 Young contestant burned up the semi-final 'AGT' scene with her crazy singing perfomance

Courtney Hadwin gave a brilliant performance on "America's Got Talent"
A 14-year-old English singer called Courtney Hadwin is dazzling the judges and the audiences of the number one hit talent show, "America's Got Talent."
"America's Got Talent" has launched the careers of several extremely successful singer, and Carry Underwood who won the 4th season is a prime example.
Underwood is now one of the most successful singers in the USA, but she may soon be facing a hot contender in Hadwin.
She performed at the "AGT" semifinals on the 11th of September and rocked with a sizzling rendition of "Born To Be Wild."
"I can't sit down! You were born to be wild. This was wild. You're amazing… My prediction is you are going to win America's Got Talent 2018."
Howie Mandel, ET Online, 11th of September 2018.
A 14-year-old with star-quality
Hadwin has become one of the favorites to win the AGT 2018, and walk away with the prize.
Hadwin, who despite her youth has a charismatic stage presence and a versatile emotional voice, stole the show at the semi-finals.
Read more about "America's Got Talent" on our Twitter account @amomama_usa.
Stealing a march on the competition with a Golden Buzzer
She had previously been rewarded with Howie Mandel's Golden Buzzer for her rendition of Otis Reddin's "Hard to Handle."
Sweetly shy, but "Born to Be Wild."
This time, Hadwin raised the bar, with a stunning cover of the Steppenwolf classic "Born to Be Wild."
Hadwin had Mandell on his feet, unable to hide his excitement, and he told her that she was his favorite to win the 2018 season of AGT.
An electrifying bundle of raw talent
Cowell defines her spontaneity and raw, unpolished performances as incredibly exciting and electrifying.
"You're this bundle of excitement," he said, "And it's raw and it's messy, but that's what makes you great."
A star on the rise, ready to take the prize.
Hadwin ferocious stage presence is in sharp contrast to her off-stage personality.
She is a painfully shy young girl, and she confessed that she is finding it hard to deal with her sudden fame and exposure to the curiosity of the media and the public.
If she wins, Hadwin will take home the "AGT" prize which consists of a performance in Las Vegas and a cash prize of $1 million dollars.
According to Forbes magazine, the prize money is paid out in yearly installments over a period of 40 years, and the annual pre-tax payout is around $25,000.
If you enjoyed this story, read the article below:
Adoptive father of 6 wins Gold Buzzer on 'America's Got Talent' with his magnificent singing
Please fill in your e-mail so we can share with you our top stories!