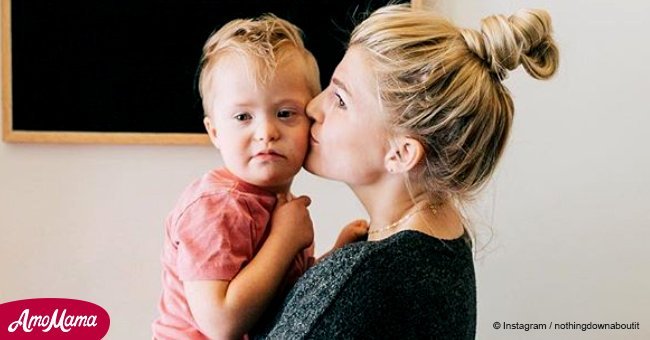 Mom of special needs son shares her heartwarming story: 'Down syndrome isn't a tragedy'

Oakley Peterson and her husband Scott were excited to have their first boy. But the day he was born they unexpectedly cried tears of sadness instead of joy.
In a heartwarming Facebook video, Oakley described the anticipation she felt as she got ready for her second child. Both she and Scott only have sisters so it was a big deal for them.
The video is found below.
Welle's labour did not last very long. And like any mother, Oakley held her son in her arms after giving birth and looked at him with love.
"We were so excited. He was beautiful. [But then] the nurses started whispering in the corner. I could tell there was some concern."
Follow us on Twitter for more @amomama_usa.
The nurses asked Oakley if she had checked for her son's chances of having Down syndrome. Oakley said she did and it was standard.
The nurse told Oakley "Well, we think he has down syndrome." Oakley thought this was an unnecessary interruption to her celebrations. There's no way he could, she thought.
Welles was taken to a neonatologist. His father went with him. At that point, Oakley seriously considered the possibility that her new son might actually have the syndrome.
When her husband came back with tears in his eyes, it was confirmed.
"My first thought was... this can't happen. My face was puffy for days because I was just worried. I don't know what to expect with his health. I don't know what to expect with his life, and that's scary for a mom. That's scary for any parent."
Oakley had a support system that reached out to her right at the hospital. Some friends who had a daughter with Down syndrome visited her and when they heard the news, they said:
"You just hit the jackpot. Your family is going to function like a normal family. Your family is going to do wonderful, fun things. And it's actually probably going to be more fun because of Welles."
The Petersons soon found this to be true. Additionally, Oakley developed a newfound desire to be Welles' mouthpiece.
For that reason, she started a blog, "Nothing Down About It." The aim of it is to follow the life of Welles as well as to teach and support others with Down syndrome children.
Oakley, who went on to have another son, said about Welle's unique personality:
"Welles gives me more hugs and kisses than anybody. Welles picks up on people's moods and loves with a capacity that we aren't even capable of understanding … there is nothing down about Welles, his diagnosis, or about people who live their life with Down syndrome."
The video posted back in 2016, has garnered over 4.5 million views on Facebook to date.
Oakley also sat down with People to explain what she had learned about the disorder:
"I thought, 'Is it something I did when I was pregnant or something genetic?' It can be genetic, but that's incredibly rare. It's typically just a fluke with the 21st chromosome."
She explained that although she initially thought differently, she's found that her family "can still do trips as a couple and fun family adventures." Her son is not holding them back.
Oakley has also learned about the special way her son appreciates life on a higher level. She said, "He enjoys and savours all the things that we constantly are overlooking."
Simply put, Oakley wants to reverse the stigma and let others know that "Down syndrome is not a tragedy."
Celebrity Jamie Foxx also learns a lot from his sister who has Down syndrome.
Last month, he said in an interview with People that thanks to his sister DeOndra, he's "learned how to live."
He explained that amidst a world where he sometimes gets wrapped up in things like choosing the right colour for his new Mercedes, DeOndra keeps him grounded.
Please fill in your e-mail so we can share with you our top stories!