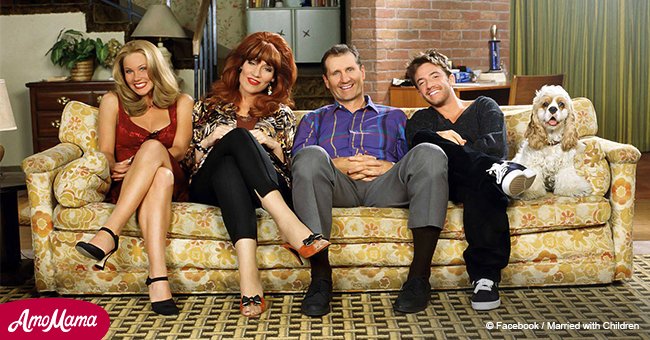 Painful tragedy that changed an entire season of 'Married... with Children'
In the premiere episode of season 6 of "Married... with Children" Katey Sagal's character Peggy announced that she was pregnant. The truth was that the actress was really pregnant in real life.
However, by episode 11 of the season, the storyline was suddenly changed and Peggy was no longer expecting. Last year, Sagal had an interview where she revealed the truth about that storyline.
Katey Sagal was on a promotional trail in New York City last year for her new book "Grace Notes" when she opened up about her pregnancy storyline on "Married... with Children." While on "The View" the actress spoke about losing her daughter Ruby to stillbirth at nearly eight months in October 1991.
"It was a very difficult thing, I lost a child at almost eight months and ... I could not wrap my brain around," Sagal shared.
For more on this story go to our Twitter account @amomama_usa. On the sitcom, the pregnancy storyline had later been dismissed as a dream sequence.
Sagal opened up about the difficulty she faced in accepting the traumatic incident saying, "This is what they say about stillbirth, that 60 per cent of it is God's will and there's no medical reason - and that's what I was told."
The actress explained how she couldn't let go of the notion that she had done something wrong. She even blamed herself for overworking or not tending to an illness.
In the year following the stillbirth she often visited "psychic healers and doctors" in the rare times she would leave her home. Things finally took a turn for her spiritually when a Buddhist friend comforted her.
The friend informed her, "Sometimes we have these little souls that come in and out [of our lives,] and their mission is completed."
That sentiment helped her healing process. Three years later she and went on to have her first child in 1994.
The actress had 2 more children in 1996 and in 2007 via a surrogate. She shared that she wouldn't have had her children if it hadn't been for her friend's guidance.
In her memoir, Sagal held very little back. She also delved into her battle with her body image which led to a problem with diet pills.
Please fill in your e-mail so we can share with you our top stories!