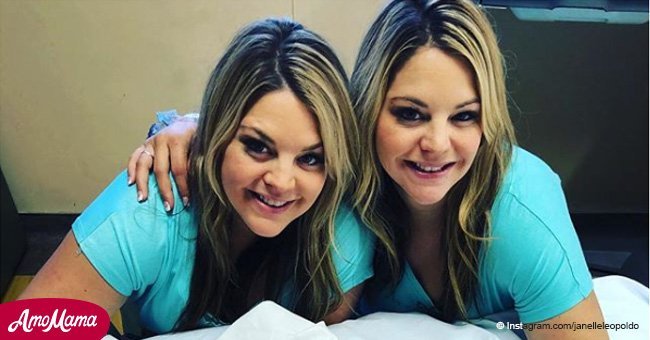 Twin sisters surprise the world by giving birth to sons on the same day

Jalynne Crawford and Janelle Leopoldo are twin sisters who have stuck to traditional twin ways. The two do everything they can together, including giving birth.
Crawford and Leopoldo got pregnant around the same period and when the time came around, they gave birth in the same hospital, were cut by the same doctor and, of course, the whole thing happened on the same day.
According to ABC News, an Arizona hospital was the setting to the C-sections that each twin received. They delivered their boys in June about two hours apart.
Follow us on Twitter for more @amomama_usa.
Their rooms were right next to each other but it didn't matter. Jalynne said, "For the three days we were in the hospital we were in each other's rooms all the time."
Crawford's new son is her fourth child. She has two girls and a boy already. Leopoldo's newborn boy is her second boy.
Crawford has typically been ahead when it comes to family matters. "Everyone always asks how we decided who got to go first," she told "Good Morning America."
She continued, "Since my husband [professional baseball player Brandon Crawford of the San Francisco Giants] only had a few days of paternity leave, Janelle offered me to go first so we would have a few extra hours with him. Also, I'm two minutes older and I found out I was pregnant four days earlier, so it made sense."
Leopoldo had difficulties in getting pregnant. This led her to use in vitro fertilization. The twins also shared the suffering of miscarriages. Crawford experienced two and Leopoldo had one.
Additionally, their oldest sister passed away this year after an asthma attack.
So the new additions were a welcome breath of fresh air and new life. It's also another way the twins will strengthen their already tight family bond. The twins see each other "about every three weeks."
"Our family is extremely close and spend a lot of time together, but there is a difference with Jalynne and me. Our husbands joke, 'If you marry one, you marry the other' in the sense that we love being together so much and talking so much. We feel when we are apart, there is a piece of us missing. Our kids already feel this bond as well."
Actually, they always wanted to go through such an experience.
"Growing up, my twin sister and I talked about how neat it would be to get married together and have babies together," Leopoldo said. "Well, the marriage part did not work out, but the baby thing sure did! I don't think I ever imagined how special it would be until the journey began."
Their journey started way back in college at UCLA. The twins were gymnasts back then on scholarships. Their husbands also attended the college. The men are close friends.
This helped to unify the twins' plan to have the babies on the same day.
"When we approached the doctor about having the babies on the same day, he said it was fine, they were the same gestational age and due within a week of one another."
The new boys, Bryson Ryder Crawford and Jace Alan Leopoldo, have been dubbed by the "twinousins" by the family.
Since they were only born on the same day, we're not sure if the two boys will share that special connection that twins claim is exclusive to them.
But these newborn Florida twins sure did back in February 2018. A YouTube video showed how the premature newborns started crying upon separation from each other moments after birth.
As soon as the nurse placed them together again, however, they both instantly stopped crying.
Their father Dane said:
"One of our greatest hopes, when we found out we were having twins, was that, as they grew, they would be good friends and support one another. Seeing them comfort each other just moments after birth was almost like the first step in that special relationship."
Please fill in your e-mail so we can share with you our top stories!