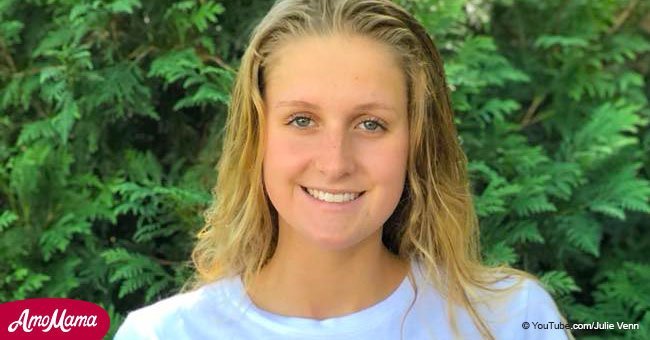 Mom outraged after nurse body-shames her 13-year-old daughter during examination

Julie Venn went with her daughter Riley for a yearly check-up of the 13-year-old. She did not expect her daughter to be body-shamed at any point during the visit.
Julie, who has two girls, was actually looking forward to seeing how much her younger daughter had grown over the past year. The mom of two works as a personal trainer and a coach.
In a Facebook post shared on "Moms of Tweens and Teens" page, Julie relayed the harrowing event and her emotions surrounding what happened.
Follow us on Twitter for more @amomama_usa.
"The coach in me has loved seeing her strength and size finally come along and the mom in me has loved watching this beautiful young girl begin to become a young woman."
Julie, 48, said that the nurse asked Riley seemingly regular questions:
"What's your bedtime? How much exercise do you get? Are you involved in sports? Do you get enough dairy in your diet?
But it became a bit suspicious when the nursed "[asked] her multiple times - anything else going on I should know about?"
Julie, who lives in Glenview, Illinois, said that Riley had been "friendly" and answered the questions "all honestly and openly."
Riley even opted to let the nurse know that she had struggled with school in the past year as there was some drama.
She told her details about her menstrual. It was after that that things took a turn for the mother and daughter.
"The NP then looks down at her computer, then back up at Riley's face and says to my 13 year old daughter- 'Tell me RILEY, HOW CAN YOU EXPLAIN ALL OF THIS WEIGHT YOU'VE GAINED?' "
An overwhelmed Riley is taken aback and "her eyes begin to glass over." The NP doesn't end there. She goes on about her previous year's weight compared to this one and possibly too much junk food.
But Julie has a "literal, physical reaction" and abruptly cuts her off.
"I put my hand up and said 'STOP! You need to stop talking to my daughter about her weight. She is 13, she is strong. She is healthy and she is PERFECT. You need to move on!' "
The NP did just that. After the checkup is over, however, she asked Julie to speak to her privately.
The NP then proceeded to ask why Julie reacted that way. Julie "explained under no uncertain terms that she was out of line in the way she dealt with [her] daughter."
She added that "our girls need to be empowered and supported and celebrated." the NP still defended herself and Julie rebutted.
Julie said:
"They already have to compare themselves to the ridiculous social media [explitive] standards. They are flooded with images of perfection via tv, youtube, FB, Instagram and Snapchat."
Most heartwrenching was when Riley told her mom that "this is why kids have anorexia or feel like they want to hurt themselves."
Julie stated that she will not be going back to that particular office in the future. She believes the nurse was "poorly trained."
In an interview with PEOPLE, Riley described the nurse as "ignorant and insensitive." She further stated, "Riley did gain weight this year. She also did grow like 4 inches. She definitely began to hit puberty. I believe this woman just has no clue. She's never been properly trained and she was too lazy or misguided to do better."
In May 2018, megastar Jennifer Lopez was also compelled to share a word to body-shamers.
The singer, actress, and producer sat down with Instyle to talk about her diet, fitness routine, and body image.
Regarding why she never hid her curves, she said:
"This is who I am. I'm shaped like this." Everybody I grew up with looked like that, and they were all beautiful to me. I didn't see anything wrong with it. I still don't!"
The 49-year-old has her own line of makeup as well as her new brand of Latin glamour, "Jennifer Lopez Inglot."
Please fill in your e-mail so we can share with you our top stories!