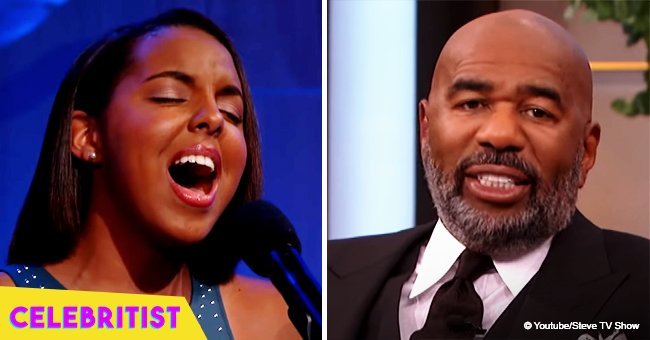 Teen who went viral from McDonald's drive-thru video steals the spotlight on Steve Harvey's show
Cecily Hennigan vowed the audience at Steve Harvey's show with her marvelous voice a few days ago, and the TV host surprised her with two fantastic news. The 16-year-old came into the spotlight after a video of her singing at a McDonald's drive-thru became viral last month.
The Conway teenager was visibly excited for being on TV for the first time when sat alongside Steve Harvey on September 4, as part of his "Steve TV Show." Hennigan looked stunning in a sleeveless emerald dress and printed stilettos as she told Harvey her story.
Cecily revealed that after singing at an open mic on her hometown, she and her friends decided to go for food. Since McDonald's' was the only open restaurant and they were on a budget, the girls decided to go for it. However, after ordering their food, Cecily remembered she always wanted to sing the McDonald's drive-thru song, originally made by YouTuber and "RuPaul's Drag Race" star Todrick Hall.
So, the girls decided to turn around, and after assigning the roles of camerawoman and official beat maker to her friends, Cecily went on an impromptu performance of the song after an unsuspecting worker at the food chain asked, "what can I get for you today?"
The video has earned over 1.2 million views at the moment, a number that keeps on rising after Hennigan's appearance on Harvey's show. The girl not only charmed the audience with her easy- going personality, she also proved her talent more seriously.
Cecily made a beautiful rendition of Sara Bareilles' "Gravity" accompanied only by a piano, wowing Harvey and the audience with her voice.
After her performance, the TV host surprised Cecily with a paid trip to see Celine Dione's show in Las Vegas, including a two-night stay at the Ceasar's Palace and an exclusive meet and greet with Dione, who's the teenager's favorite singer.
Harvey also gave Hennigan a $25,000 check, courtesy of McDonald's, to go toward her education and her dream of becoming a professional singer.
"If you asked me 2 years ago where I thought I would be today, I definitely would have never thought this! If you would've told me that posting a video singing in a McDonald's drive-thru would be my big break, I would've looked at you like you were stupid," Hennigan wrote on her Instagram with a set of pics from her visit to the show.
Cecily also thanked all her new fans for their love and support and vowed to not take it for granted.
ANOTHER RISING STAR
Like Cecily, many other teenagers and kids are looking for their chance to shine, and a high school student from Florida is also getting lots of attention after his cover of Rihanna's "Diamonds" became viral.
Willie Spence and some of his classmates were gathered in the sports hall at Coffee High School jamming to some songs when he started to belt out the hit.
While his classmates accompanied him on the chorus, Spence stole the show with his effortless rendition of the song.
Please fill in your e-mail so we can share with you our top stories!