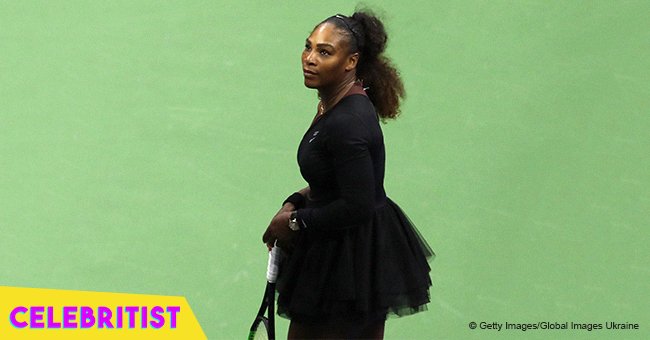 Serena Williams looks calm in recent photo with daughter Olympia in cute blue sweater
Serena Williams found peace with her daughter in arms after her highly controversial performance at the U.S open finale a few days ago. The tennis star has remained quiet about what went down, but the umpire she verbally attacked and her opponent, Naomi Osaka, has broken the silence.
Serena Williams' looks relaxed and in peace having down time with her daughter, Alexis Olympia, in a recent pic shared to her Instagram account. The adorable mother-daughter duo was watching some Jehova witness video at their hotel room to unwind after a long day.
Olympia, who recently turned 1, looks cozy in a blue sweater with a pink heart and the word 'love' printed on it while sitting on her mom's lap and looking severe to the camera. Williams, on the other hand, was out of her tennis gear wearing a white sweater and grey pants as she rested on the sofa while keeping a protective hold on her baby.
The tennis superstar captioned the pic:
"Staying at the @newyorkpalace has been so relaxing. When @olympiaohanian and I were watching jw videos after a long day #thismama passed out. Olympia was clearly not happy but I could not have been more comfortable anywhere else. Thanks so much @newyorkpalace for having me. It's always a pleasure."
Fans took to her comment section to share their thoughts on the adorable snap. One user wrote "Awww watching JW videos. Awesome," another added, "That's the let me nod out while they watch TV on my lap...but if they move I'll know...move!" and a third one said "Oh she is so beautiful. You deserve to rest and relax."
Williams just had one of the hardest weeks of her career. Not only she lost her 24th Grand Slam title against Naomi Osaka, but she was also accused of cheating and penalized $17,000 for three violations at the controversial final game of the U.S Open.
WHAT HAPPENED ON THE GAME?
The 36-year-old got involved in an argument with the umpire Carlos Ramos after he penalized her a point for allegedly getting coaching from the sidelines, but she denied it. Later, after she lost a point, Serena smashed her racket on the floor in frustration, which earned her another violation point.
That's when she charged once again against Ramos, demanding an apology and calling him a "thief" for stealing one point from her. The result of her outburst was the penalization of an entire game.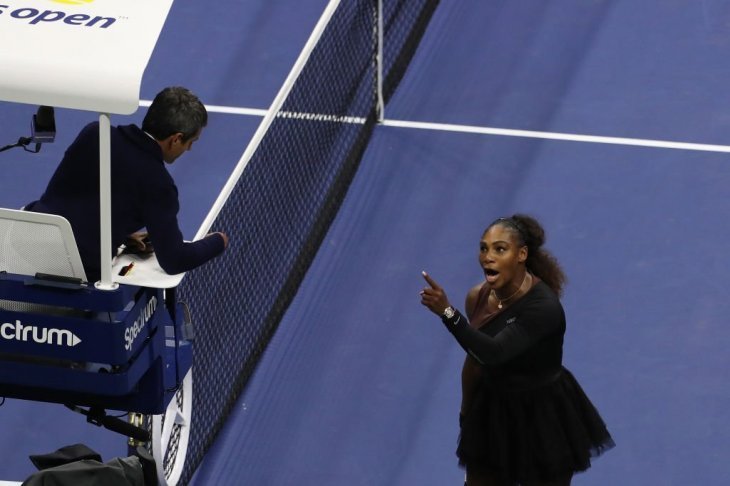 Credit: GettyImages/Global Images of Ukraine
She ended up losing 6-2, 6-4 against 20-year-old Naomi Osaka, who couldn't contain her tears when the crowd showed their disappointment about Serena's loss.
WHAT DID OSAKA SAY?
Naomi Osaka, born in Japan but raised in the United States, was an emotional wreck at the trophy presentation of her first ever win of the U.S Open. The 20-year-old felt the need to apologize to the audience who was openly for Serena, as she later confessed.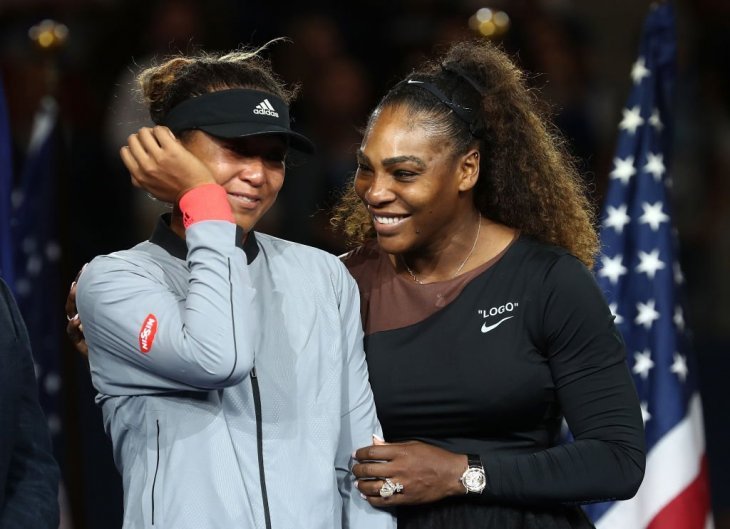 Credit: GettyImages/Global Images of Ukraine
On her appearance post-match at the Today show, Osaka said of Serena's outburst:
"I didn't really know what was going on because I went to the back and had my back turned. Then before I knew it, he was saying there was a game penalty. I was a little confused by the whole thing."
And added:
"I'm not really that 100 percent sure because I kind of haven't really had time to look too much at the news. I've been going all over the place. I can't really form an opinion. I want to watch everything and I want to know what happened. This is sort of the biggest thing that's ever happened to me."
Osaka confessed that she felt emotional because she believed the crowd was booing her and not the umpire, however, it was Serena who calmed her down as she whispered to her that she was not the target of the angry audience.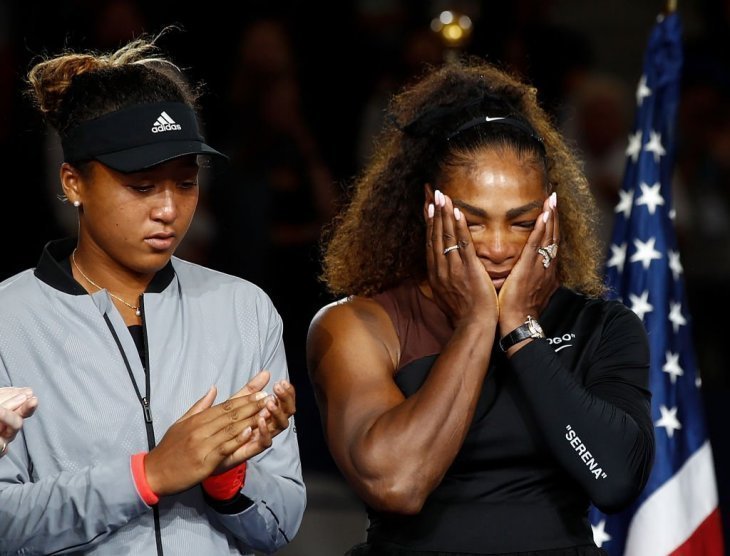 Credit: GettyImages/Global Images of Ukraine
"I could sympathize. I have been a fan of Serena my whole life. I knew how badly the crowd wanted her to win," she concluded.
WHAT DID THE UMPIRE IN QUESTION SAID?
After receiving loads of hate from Serena's fans and women from all over the world for his alleged "sexist" decisions, Carlos Ramos has kept a low profile, but he recently broke the silence while speaking to a local newspaper from his country, Portugal.
The man told the Tribuna Expresso that he's doing okay, giving the circumstances. Chair umpires are not allowed to talk about a match outside of the court, which explains his lack of declarations.
Ramos said he has been getting support messages from family, friends and tennis players telling him he did the right thing. The newspaper also stated Ramos stands by his performance at the match. He said:
"It's a delicate situation. But umpiring a la carte is something that does not exist. Don't worry about me; I'll be fine."
Please fill in your e-mail so we can share with you our top stories!