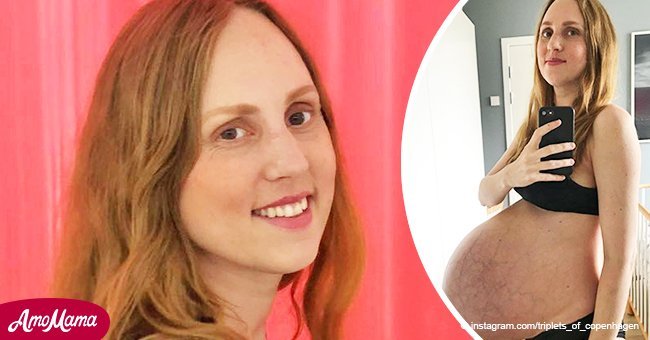 Pregnant mother shows off her incredibly huge belly and reveals the reasons for such a size

In the months prior to the delivery of her babies, this woman from Norway gained more than 160.000 followers who wanted to know every detail of what it is like to expect triplets.
On September 13, triplets Iben, Agnes, and Filip were born to parents Maria, 36, and Anders, 40, who reside in Copenhagen, Denmark. But before that, Maria's pregnancy made her Internet famous, as Daily Mail reported.
As her Instagram biography reads, Maria is from Norway and her husband is from Denmark. Her account called "Triplets of Copenhagen" gained popularity thanks to Maria's documentation of her sweet wait.
Two days before sharing the first photo of her three newborns to social media, Maria posted the last image of her impressive baby bump as she was looking forward to relieving herself of those extra pounds.
She also thanked the many followers from around the world that joined her in her journey and showed her so much appreciation and support.
Read more on our Twitter account @amomama_usa
HER WEEK-BY-WEEK PHOTOS
On the 34th week of her pregnancy, Maria shared a chart that showed how her belly grew from the 12th week, taking her picture every two weeks. She said that expecting triplets was a life-changing event.
The post has received more than 20.000 likes as of September 14, with many users commenting about it.
"[It is] seriously amazing what the female body is capable of," wrote one user. "Conceived naturally too! How about that for a surprise," commented another.
"This is so amazing! I don't know how people do more than one - you're a superhero!" added a viewer.
"I'm glad we took these pictures, because this collage really shows the massive growth. It's strange to have ended up with such a big belly and it's even stranger that it can stand out like that without falling down!"
-Maria, Instagram, September 10, 2018.
TRIPLET'S BIG BROTHER
Maria and Anders were already parents to 2-year-old Mikael before falling pregnant with the triplets. He has to get used to being the big brother of a boy and two girls.
The mother expressed her concern about how he was going to take it. Maria captioned an image of the toddler in diapers reaching up to touch her belly:
"Trying to prepare soon-to-be big brother Mikael for what's coming, but hard to know how much he understands."
KEEPING IT REAL
Maria didn't limit herself to share only the joy of having conceived triplets in a natural way – something that happens once in every 4.400 pregnancies approximately – she was very honest about the downs of her pregnancy too.
She documented all the unplanned visits to the hospital she had to make due to her sudden attacks of dizziness and nausea because of her energy consuming triple pregnancy.
Maria also suffered from pruritic urticarial papules and plaques of pregnancy (PUPPP), a rash that extended from her belly to her arms and legs, a complication that not many people know about.
Nevertheless, she always kept a positive attitude and high spirits about the challenges she had to face, and always shared useful information for other women going through the same things.
QUINTUPLETS OF CZECH REPUBLIC
There is no doubt that carrying three babies in the belly is far from an easy task. So, just imagine how it was for Alexandra, a woman from the Czech Republic, to discover that she was going to give birth to five children at once.
This is something that had never happened in her country, at least since 1949, when the nation started to keep records of births. In fact, there is one chance out of 60 million to give birth to quintuplets.
Please fill in your e-mail so we can share with you our top stories!