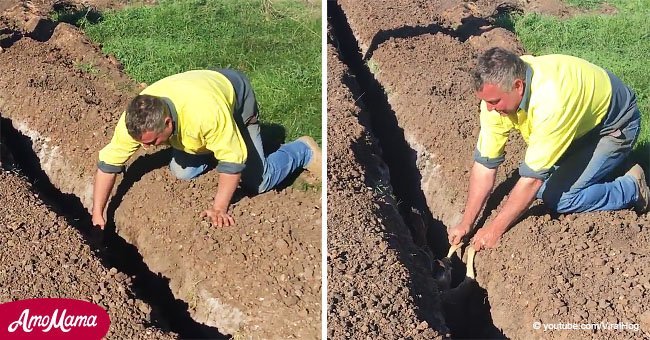 Workers found two paws sticking out from a ditch and rushed to help
A small kangaroo was saved by construction workers after having fallen into a ditch.
The moving moment was recorded and shared on social media. It is really emotional when the worker from Goondiwindi, in southwest Queensland, rescued the animal. The men were installing an irrigation pipe when they found the little kangaroo trapped.
At first, the kangaroo was reluctant and would not let himself be helped, but then he allowed Fritz White to grab him by his legs and set him free, as the Reshareworthy reported.
In the clip, you can see that the baby kangaroo stops a few seconds before leaving very happy. It may have been a kind of thanks for saving him.
One morning at the end of the workday, the group of workers found the kangaroo that had been trapped inside the dry mud. Read more on our Twitter account @amomama_usa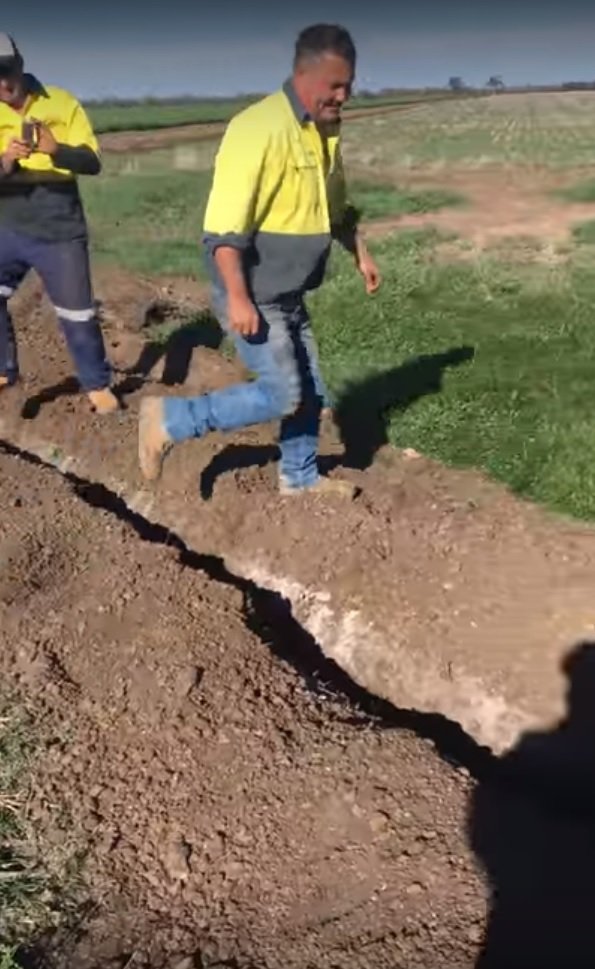 Source:Youtube/ViralHog
It was not a little pig, but a kangaroo stranded in the already dry land with cracks, which prevented him from saving himself.
So the recycling and waste team of the Bundaberg Regional Council used their heavy construction equipment to save the kangaroo.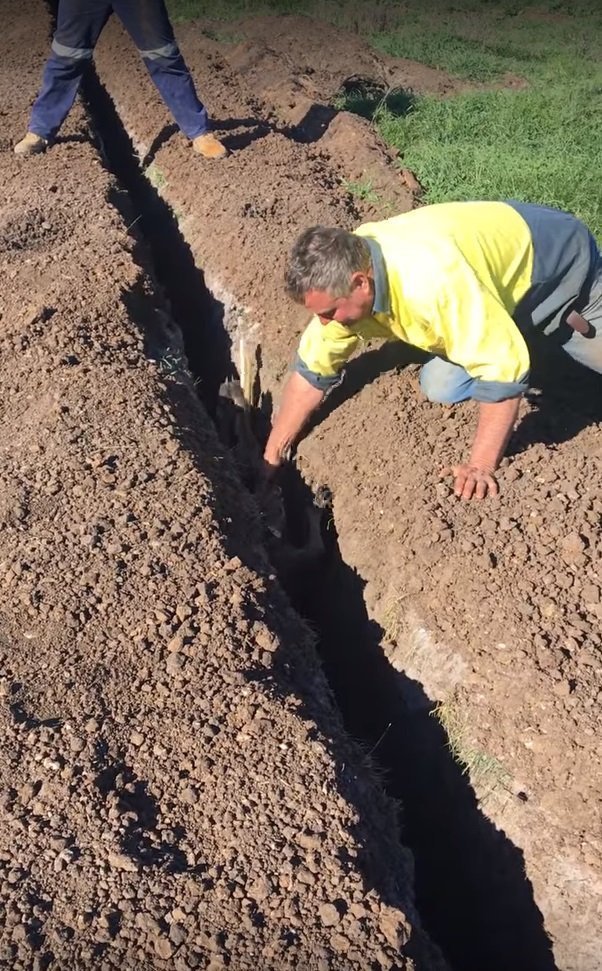 Source:Youtube/ViralHog
Between the operations and hard work, they had to excavate the soil, around where it was stuck in order to loosen the land that was already compacted.
However, the team took only a few minutes to get the kangaroo out. Tony Riley, the excavator operator, was the one who addressed the media after the rescue video went viral. He said the animal was stressed and tired.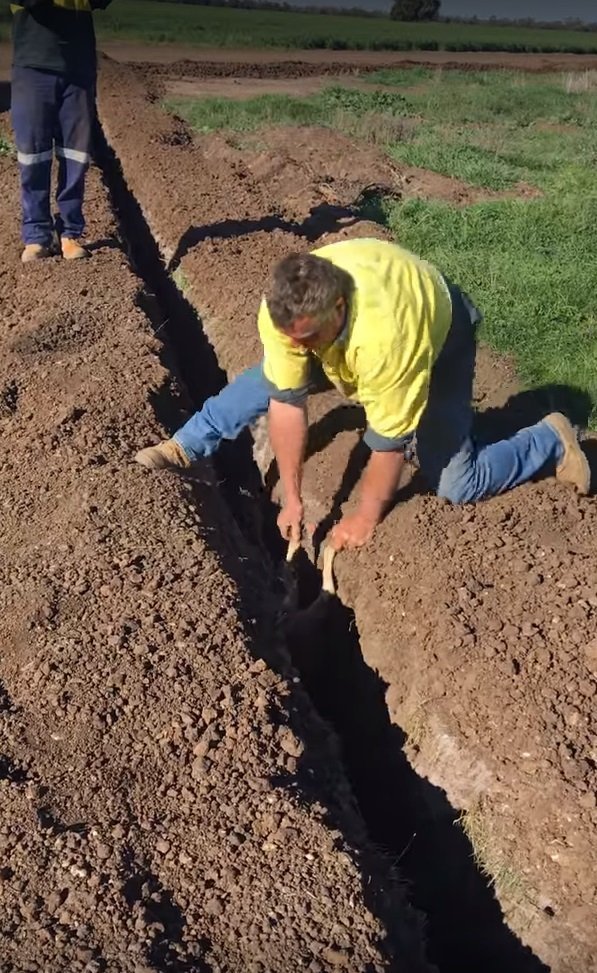 Source:Youtube/ViralHog
"First of all I started to dig a trench for him and I thought he could turn around and go through that to escape, but he kept sinking more and more into the mud," he said.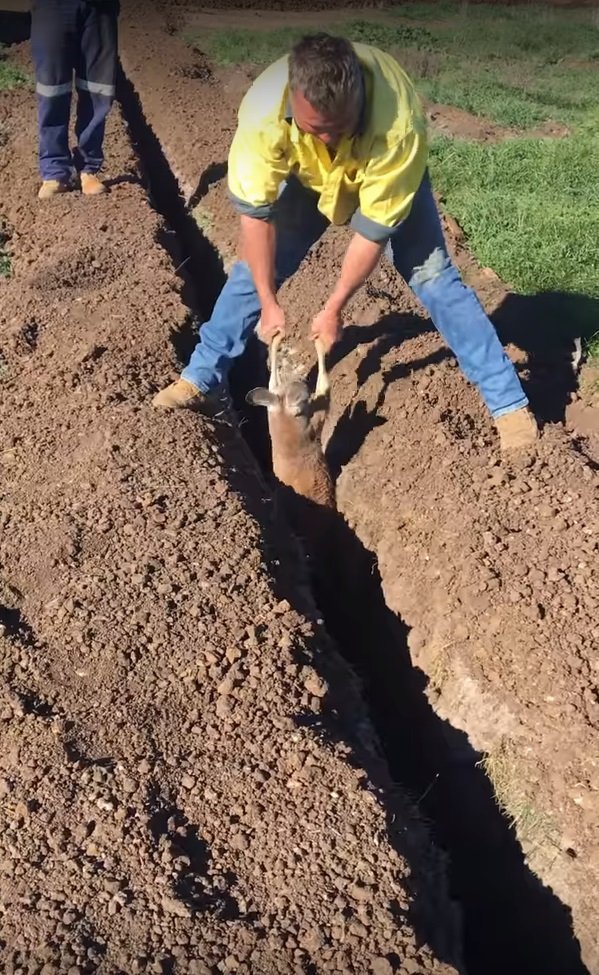 Source:Youtube/ViralHog
The recycling and waste team of the Bundaberg Regional Council used heavy construction equipment to deal with the delicate operation yesterday. As the clay hardened, the animal could not have had a way to save itself.
We are very grateful that these men took the time to help an animal in danger. Unfortunately, there are other people that are not as kind and respectful to animals.
This reminds us of a recent video of a man that started throwing punches to a caged kangaroo that got visibly scared while the man keeps annoying him.
For more than a minute, the man repeatedly tries to hit the kangaroo, which manages to dodge almost all fists. Towards the end of the clip, the man is visibly frustrated by not having managed to hit the animal, so he chooses to slap him and try to head-butt him.
Please fill in your e-mail so we can share with you our top stories!