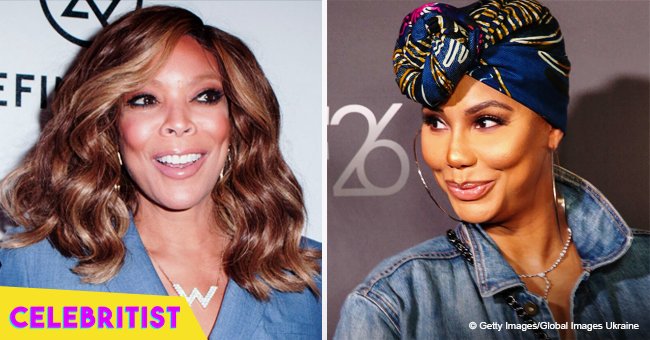 'I've been too afraid to talk about it',' Tamar Braxton reveals she was molested as a child
During Tamar Braxton's latest interview, the singer confesses she was molested as a child by family members.
Tamar Braxton has just made a startling confession on "The Wendy Williams Show" – she was molested when she was a child.
In the interview that was pre-recorded and aired on September 13, Tamar made the shocking revelation after she recalled her recent family meeting with Iyanla Vanzant where she stormed out without revealing the reason.
As the show's host Wendy Williams pressed her on the matter, the singer surprised the audience when she revealed she'd been molested by members from both sides of her family.
Though Wendy opted not to ask for details about the molestation, Tamar later released a series of tweets addressing her motives for opening about it on the show.
"I decided to Tell Wendy and the world MY secret, MYSELF that I have been a victim of abuse not once, twice, ten, but multiple times by multiple "family members" I've never told ANYONE other than Two people in my life and they both have held this close to them."
Tamar also alluded to having lost control when she revealed crying after she made the revelation.
"IMMEDIATELY started to cry. Not because someone decided to allow someone else to tell MY SECRET, not because I was asked if it were True in front of a hundred strangers, but because once again my right to choose was taken from me all over again."
She then acknowledged the mystery man she's been dating for claiming she's beautiful despite the scars she has.
"One Being the man that I am with now and EVERY, SINGLE DAY he says I'm so beautiful and my scars makes me even more attractive."
The incident that caused Tamar to spill on her past happened earlier this month when she and her sisters met with Vanzant for a much-needed emotional and spiritual support after they all (except Traci Braxton) quit their show "Braxton Family Values." MTO News reported Vanzant invited the sisters to her show "Fix My Own Life" to repair their relationship. However, in the middle of filming, the sisters walked out claiming Vanzant was merely exploiting them for ratings. Tamar even labeled her "the DEVIL" when she tweeted her ire after she walked out.
Apart from opening up about her current love life to Wendy during the interview, Braxton also discussed her ongoing divorce with her estranged husband Vince Herbert. Just this week she filed documents in court confirming she served him papers after she was previously warned by the LA County Court of a possible dismissal of their divorce case. She originally filed it in October 2017 but it has remained inactive since then, according to the court warning.
Please fill in your e-mail so we can share with you our top stories!