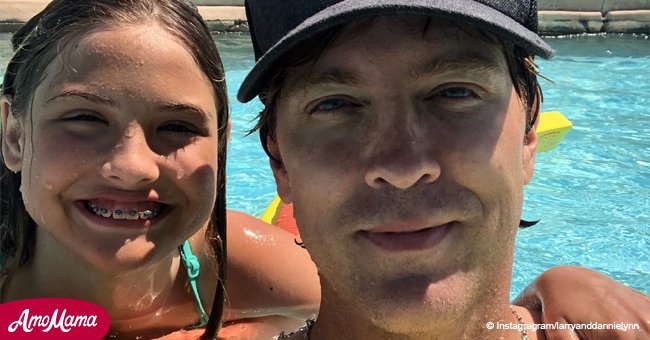 Larry Birkhead does incredible things to normalize daughter's life after difficult past
Larry Birkhead was declared the father of Dannielynn when her mother Anna Nicole Smith passed away, and ever since he has been doing everything to give the young girl a normal life.
The first thing Birkhead, 45, did when he won the paternity suit in 2007 was moved back to his hometown in Louisville, so he could concentrate on raising Dannielynn faraway from the glare of the spotlight.
In a 2016 interview with the Today Show, the former partner of American Playboy model Smith gave an update about his daughter.
"I made a conscious decision a long time ago to move to Kentucky," he said. "I do that on purpose because it takes away the chase, it takes away the curiosity, it takes away the false stories."
Follow us on our Twitter account @amomama_usa to learn more.
When he was asked whether his daughter will live a Hollywood lifestyle like Smith in the future, he responded, "People call me all the time and say can she be in a movie, can she model? I didn't care about it, so I'd say no she's not interested. She's just a regular kid. She's into technology now and she's into games and these YouTube videos."
Despite the drama that surrounded their family in the past, Birkhead said he's focused on giving his daughter the most normal childhood he possibly can.
"You look back on it, and I'm a better person and a stronger person because of the stuff that I went through," he said. "I look back ten years, I wouldn't have it any other way."
But Birkhead admitted that he still suffers from difficult days from time to time.
"There's things left unanswered, things that I didn't get to say to [Anna], and it's tough when you go to school and you're filling out the forms," he said.
"It gets me every year. And you have to put 'deceased' on her mom's information."
He continued, "There's days that if I stop and think about it, and you ask me about it, you will see a tear, but every other minute of the day you will see a smile. That's just how it goes."
Speaking about his parenting skills, the proud father said that Dannielynn would apparently think he's doing a good job.
"I'm not the best dad, I have my faults, but I do the best I can with what the situation is. We make the best of it, and I think Dannielynn's best days are still to come. She's got such a bright future in front of her, and I try every day to keep a little bit of the memory alive of her mom," he explained.
Dannielynn was born on September 7, 2006, in Nassau, Bahamas, three days before Smith's 20-year-old son, Daniel, died while visiting his mother in a Nassau hospital.
On February 8, 2007, Smith passed away in Hollywood, Florida, due to an accidental drug overdose.
Please fill in your e-mail so we can share with you our top stories!