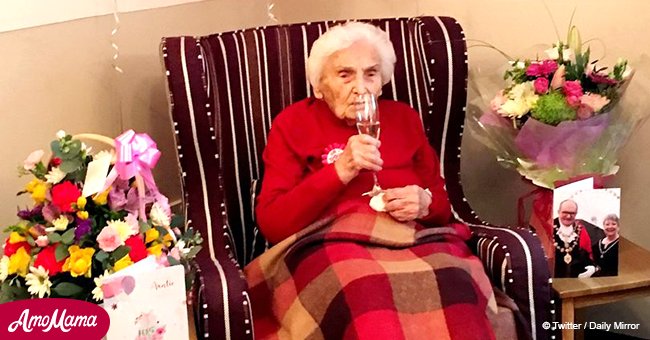 105-year-old woman claims avoiding men is the secret to her longevity
On September 4, a woman named Brenda Osborne celebrated her 105th birthday. She currently resides in a retirement home where she shared her secrets to longevity.
The elderly woman revealed that one of the things that kept her going for so long had to do with the opposite sex. She shared that she would avoid men.
In 1913, Brenda Osborne, 105, was born in Mansfield, Nottingham. During her latest birthday, she shared with her caregivers at her retirement home how she'd managed to stay alive for so long.
She said, "I would put my good health down to hard work and avoiding men."
For more on this story go to our Twitter account @amomama_usa. Osborne told them that she also worked hard and spent time out in the fresh air.
The elderly woman was born the same year as the first Chelsea Flower Show. She also received an award for having 1 day off sick in 33 years as a nurse.
Osborne lived in her childhood home for 93 years before moving into the Brookholme Croft Nursing Home in Hasland last year. She had shared the 2 bedroom home with her 2 sisters, Vera and Beryl and nephew Ian before they passed away.
Speaking of her birthday she said, "I loved celebrating my birthday although I was disappointed the Queen didn't come. I received my letter from her but I thought an appearance was the least she could do."
Osborne's great-niece Marie Pollard also shared about the party saying, "It was a lovely day for Brenda to celebrate with all her nearest and dearest."
"The care home did a wonderful job planning it and making the day extra special. My auntie living for over a century is no surprise to me as she's always been fiercely independent," Pollard added.
She reiterated her aunt's secret to longevity saying, "She only moved into the care home last year and jokes her secret to long life is avoiding men - as they aren't worth the hassle."
Family members including her 2 great-nieces attended the elderly woman's special day this month. Osborne has lived through 2 World Wars, the crowning of 3 monarchs, 24 changes of prime ministers and England winning the World Cup in 1966.
She was educated at Carter Lane School and Queen Elizabeth's Grammar School. In her younger years, she loved to go to her caravan at Ingoldmells.
In 1940, she started work at the Victoria Hospital where she nursed Dunkirk veterans. She became an assistant nurse in 1946 and then a senior nurse in 1953.
Please fill in your e-mail so we can share with you our top stories!