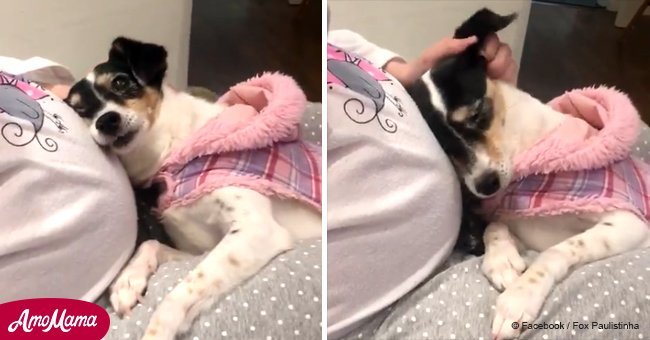 Dog demonstrates her love for unborn baby and it so cute you could barely hold your tears

We tend to think that dogs have the perceptive abilities of little children, but a dog named Penelope proved otherwise when she rested on a pregnant belly.
A Facebook video of the canine cutie has gone viral. In it, she snuggles up to her human mother's tummy which is clearly holding hew new sibling.
It's clear that the adorable pet has lots of love for her mother, Juliana, and her new sister that is soon to enter the world. The heartwarming video is found below.
Follow us on Twitter for more @amomama_usa.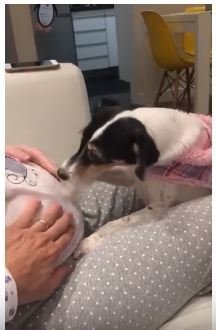 Source: YouTube
In the video, she appears to "rub" the woman's 34-weeks pregnant stomach with her paw. She rests her head against it almost as if she is ready for the many cuddles that are soon to come.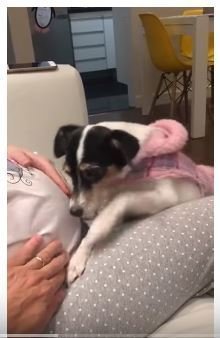 Source: YouTube
Juliana, who lives in Brazil told the
Dodo
:
"I think she knows, yes. She feels like there's something different. We set up the little nursery room and she goes in and sits under the crib. She's always been very needy and affectionate, but toward me, it has increased a lot."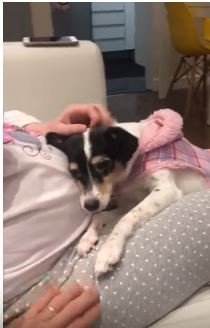 Source: YouTube
Indeed, a baby would have needed an explanation of what was going on with mommy's large tummy to know that a new baby was on the way.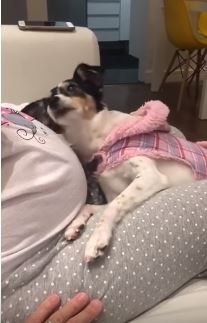 Source: YouTube
But its doubtful Penelope understands words in any language, so her display of understanding is quite remarkable.
"It's the first time she's done this," Juliana said. "It was very emotional."
Source: YouTube
Pets are well-known to show deep affection for their owners as well as their small human friends.
Juliana thinks that "Penelope will be a great big sister."
Back in 2017, another dog, Charlie the Beagle, touched the internet's heart when he was tasked with babysitting a little one in his household.
Charlie was already known on the internet thanks to having his own YouTube channel which has pulled in tens of thousands of subscribers. On it, he does tons of incredible tricks to the amazement of viewers.
Source: YouTube
When his owner introduced Charlie to the new addition, baby Laura Olivia, he made sure to use his intelligence to keep her safe and happy. But the human and doggy team went a step further.
Charlie knows how to change diapers, tuck in Olivia, and even entertain her by playing the piano. His owners told We Love Animals:
"We taught our dog how to play keyboard, how to change traffic lights and how to swing a baby crib, but we never had to teach him how to love our daughter."
As time passed, Charlie has been relieved of some of his duties, but she continues to spend most of her time with Olivia playing outside and snuggling up in front of the TV.
Please fill in your e-mail so we can share with you our top stories!