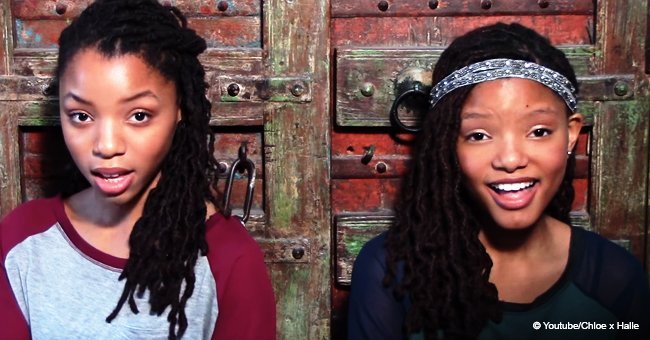 Meet the sisters who became famous after singing Beyoncé's hit song

Chloe and Halle Bailey were two talented sisters from Atlanta until they caught the attention of music icon, Beyoncé, and their lives never remained the same again. You'll be surprised how far the duo has gone in the entertainment industry.
Chloe and Halle, known collectively as Chloe X Halle, launched their YouTube channel when they were 13 and 11 respectively. They couldn't have imagined that one day, they'd call the world-acclaimed Beyoncé Knowles their mentor.
FROM YOUTUBE TO THE WORLD
When their cover of the singer's track "Pretty Hurts" went viral in 2013, it caught the attention of Beyonce who shared it in her Facebook page. The rest, they say, is history. In 2015, Chloe X Halle secured a 1 million dollar contract with the singer's label Parkwood Entertainment.
In an interview earlier this year, Halle recalled the moment:
"We literally were flipping out, because as young girls, of course everyone looks up to Beyoncé."
PRESIDENTIAL INVITATION
In 2016, they released their five-song debut EP, "Sugar Symphony" and featured alongside notable celebrities in the video for Beyoncé's iconic song, "Lemonade."
The same year, they were invited by Michelle Obama to open for her South by Southwest Keynote and appear on her song "This Is for My Girls."
A PASSION FUELED BY THE INTERNET
The self-taught musical geniuses told Entertainment Weekly that their passion for singing was ignited at ages seven and five respectively. They also learned most of their skills from the internet, except for songwriting which they learned from their dad.
Chloe, 20, who learned to produce using YouTube as a resource said:
"With technology and the internet, all you've gotta do is search it and you'll have your answers. That's how we learned. Even with me and my production, if I had a question, I'd go online and I'd learn and I'd gather information that way."
Halle also learned her guitar skills by watching videos and tutorials. Although she still considered herself an amateur with the instrument, her sister thought otherwise:
"In rehearsals I'll just see her freestyling and doing all these incredible acrobatics on the guitar, and I'm like, 'Whoa, that's my sister.' I'm so proud of her."
GUIDANCE FROM THE QUEEN HERSELF
The Beyoncé protégés said of their mentor:
"Something she's always instilling in us is to just trust our intuition and our gut and let the world catch up to us. …Being able to have her as a mentor in our lives is something that's really special and that we just cherish."
And it seems the sisters have taken heed to their mentor's guidance. They released their debut album "The Kids Are Alright" in March and quite uncharacteristic of young people their age, explored weighty themes- "This generation, we're not afraid to speak up" and "We got this: The kids will be alright."
Most recently, the sisters starred as Jazlyn and Skylar on Freeform's college series "Grown-ish."
We can't wait to see more awesomeness from this duo!
Please fill in your e-mail so we can share with you our top stories!