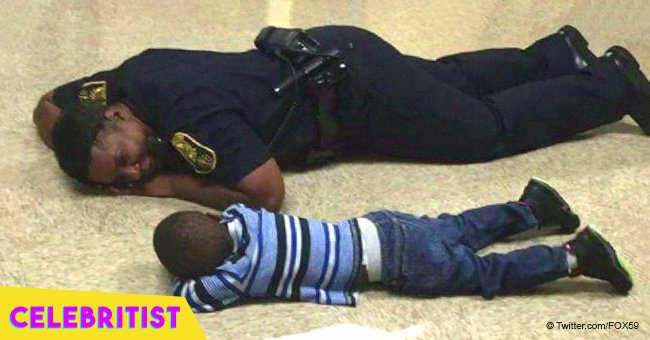 Touching moment police officer gets on the floor to comfort little boy having a 'bad day'
Precious Cornner-Jones, a police officer from Indiana, melted hearts when she decided to find common ground with a toddler to help him get through his bad mood. The random act of kindness became instantly viral.
Sergeant Precious Cornner-Jones was participating in a school rally at Indianapolis Public School 88 to support her pastor when she had a spur of the moment reaction to an upset little boy that made her earn the attention from people all over the country.
The high-five rally, organized by her pastor, consists of people from their community high-fiving students as they go into their school to give them courage, inspiration and hopefully, make their day a little better.
However, Jones noticed a little boy with a hard stare waiting on line, and she knew he was not having a good day. The officer saw the boy's mom across the room and decided to take care of the issue. She picked up the boy asking him what was wrong, and when she put him down, he fell to the floor.
The mother later explained that's how he's been expressing lately when something upsets him, but that didn't intimidate Jones. She's also a mother of three kids, so she knew how to handle the situation. After giving her keys and phone to fellow church members, Jones laid on the floor next to the boy, facing him and imitating his position.
"It wasn't a cop moment," she said to ABC News. "It was a mother moment."
The boy's reaction at first was one of surprise, as he wasn't expecting to be met on the floor by a grown up, but after he shed some tears and Jones wiped them off, he started to smile at her. "I understand these kids sometimes," she said. "They just need someone to get to their level."
Jones never found out the reason behind the boy's bad mood, but his mother showed her gratitude to Jones and hugged her. Cornner-Jones, who has been working with the State Police for almost ten years, said:
"I think people lose sight that these kids are human too. They have bad days. We can't expect them to be little robots and have them do exactly what we say."
People shared their thoughts about the picture all over social media, read some of their comments below:
Jones is not the first and probably won't be the last police officer to have a heartwarming moment with a kid.
ANOTHER ACT OF KINDNESS IN PHOENIX
Officer Rusty Baubie, from the Phoenix Police Department, was caught by one of his co-workers having a touching moment with a student from the middle school in which he has been serving as a resource officer for years.
In a photo from the moment that went viral, Rusty is seen sitting on the floor next to a boy who was crying with his head buried in his arms. Edna Guerrero, a friend of Baubie and originally posted the picture, explained in her caption that:
"A student was having a difficult time, was screaming and inconsolable crying, saying sad and negative things about himself. This officer looked through the eyes of this student and immediately showed mercy."
And continued:
"This officer spoke softly to the student letting him know that he did matter, that he was important, that he was loved. This officer helped this student understand that we all make mistakes and that those mistakes do not define who we are and we just learn from them and move on."
People from all over the country commented on the officer's kindness, even though said man doesn't have a social media account, according to what a public information officer at the Phoenix Police Department reported to the media.
Please fill in your e-mail so we can share with you our top stories!