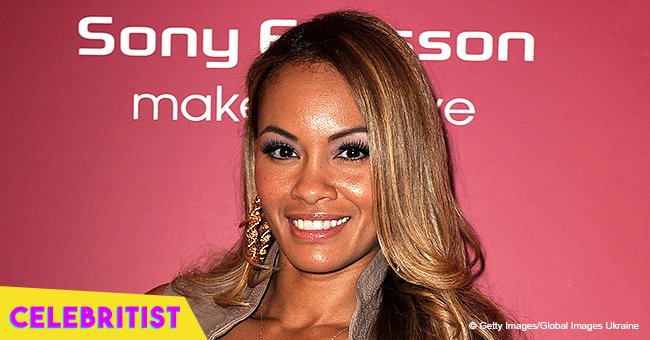 Evelyn Lozada steals hearts with photo of son in white T-shirt and jeans
Evelyn Lozada's 4-year-old son, Carl Leo Jr. looks all grown up and fashionable for his picture day at school in a recent photo shared by the reality star.
The "Basketball Wives" star melted hearts with a photo of her youngest son, Carl Leo, ready to give his best looks for the cameras at his school's picture day. The young, handsome boy looked like a fashionista wearing a white t-shirt with red and black details on the neck and sleeves, jeans, and white Gucci sneakers.
His hair was one of the aspects that attracted the most attention, as he showed off the back of his shaved head with a little star on it. Carl posed confidently at his house's entrance, putting his leg on the front door and smiling widely to his mom's camera.
"My baaaaaaby "Carl Leo Crawford" G'd up for picture day! #ILoveHimSoMuchItHurts lol," Evelyn captioned the Instagram picture. Fans of the star immediately flocked her comment section with praises for the little boy.
One user wrote "OMG he is growing up so fast. Too handsome," another added "Soooo cute, and he got so big. Time flies," and a third one even predicted Leo's future saying "Headliner for a Gucci Campaign in his near future...cute!"
Carl Leo is the only son of Lozada and ex-fiancé, Carl Crawford. The couple got engaged in December 2013, when the baseball star proposed with a $1.4 million, 14.5-carat emerald-cut diamond ring. Three months later, Lozada gave birth to their first son, and second overall for her, as she has a grown-up daughter from a previous relationship.
News of the rupture was made public in August last year, even though the couple split in February 2017. As for the reasons, Lozada's rep told E! News at the time that infidelity was the trigger.
Despite their differences, Lozada and Crawford maintain a friendly relationship for the sake of their son.
EVELYN LOZADA ON MOTHERHOOD
The 42-year-old beauty revealed to Latina how was for her becoming a mom once again after 21 years of having her first child.
"Raising a boy is very different than raising a girl," she said. "Shaniece (her eldest daughter) was very calm and quiet; Leo is very active and has so much energy. The technology the second time around is way more advanced too."
Lozada also revealed that she was caught by surprise at how lenient she is with Leo, as she always thought she was going to be a strict mom if she had a boy. She said:
"Leo determines what I do with my day. I pretty much live my life at the zoo, aquarium, park, museum. People would probably be surprised to know that I actually love going to Disneyland–a few years ago I would have told you, hell no!"
As for her piece of advice for new moms, she stated "Make time for yourself and trust and believe things will always be better. Stay positive."
Despite being a mom of two, businesswoman and reality star, Evelyn still dedicates lots of time to maintain her fit body, living by her word. The results of her workout routine are amazing, as seen in recent pictures from her night out with co-star Shaunie O'Neal.
Lozada put her midriff on display in a revealing nude bra-top and skin-tight beige pants that enhanced her curvaceous body to perfection.
Please fill in your e-mail so we can share with you our top stories!