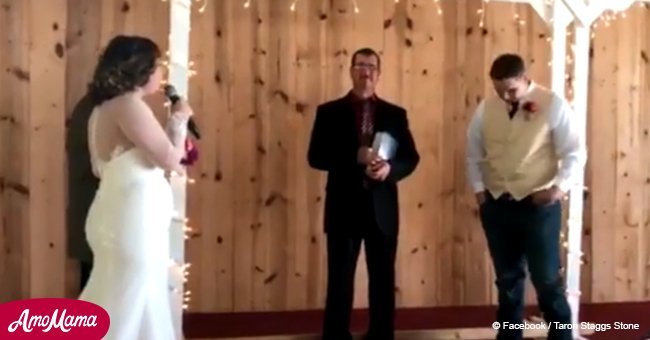 Groom breaks down in tears after wife's sweet serenade with beloved Elvis song

Allison Dyer and Jason Thurgood tied the knot in October 2017 in a ceremony that was significantly touching for the groom as the bride drove him to tears.
The couple met each other at the church. Even though Dyer was not looking for a relationship at that time, their connection was so intense that they couldn't help but be together.
Thanks to their outstanding singing skills, they traveled together to sing at several churches throughout the four years they dated. Given the fact that the music made their bond more special, it was obvious that music would have an important role during their wedding.
Dyer decided to surprise Thurgood singing for him in the ceremony. Of course, she didn't just choose any song but one that was very meaningful for the couple.
Source: Facebook/Taron Staggs Stone
It was Elvis Presley's "Can't Help Falling in Love." It was one of the several number-one hits that Presley performed during his career, and the British reggae band UB40 popularized it.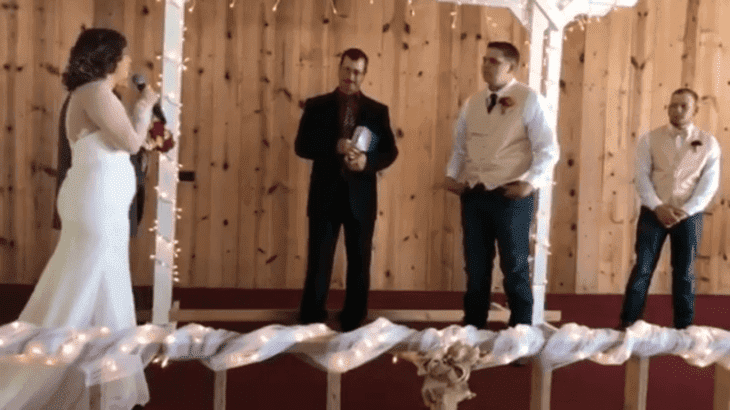 Source: Facebook/Taron Staggs Stone
To make things even better, Dyer decided to sing it while walking down the aisle to meet her then-fiancée at the altar. As she expected, Thurgood cried with her performance, what made the moment even more adorable.
Thurgood pointed out that he felt "extraordinary" as Dyer used to be in an abusive relationship, so knowing that he made her life a lot better and easier meant everything for him.
Dyer later admitted that if her husband didn't shed at least one tear, she would have turned around and sung all over again. Read more on our Twitter account, @amomama_usa.
"I saw the mic in her hand, and she was singing, and at that moment, the floodgates opened up," revealed Thurgood, who was recorded placing his hands on his knees and facing down when he heard Dyer's first notes.
Dyer was not the only bride who came up with a plan to make her ceremony better. Julie Finkel surprised her deaf father by signing the song during her father-and-daughter wedding dance so that he could understand the lyrics.
As the song reached its conclusion, Julie's father was visibly in tears, completely overwhelmed by emotions. Struggling to compose himself, he took his daughter in a warm embrace as if expressing her his gratitude.
Please fill in your e-mail so we can share with you our top stories!