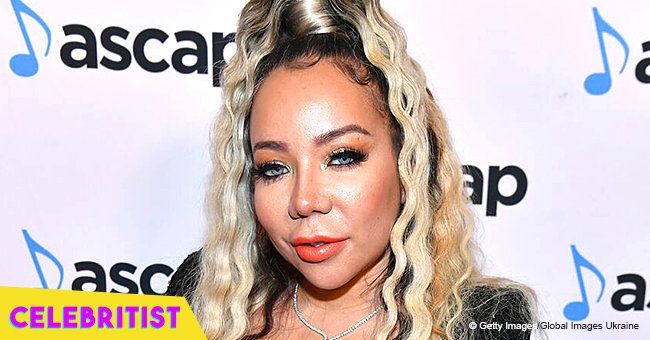 Tiny Harris shares warm hug with son Major in heart-melting picture
Tiny Harris gushes about her "genius" son as she shares a photo of the two of them. Tiny also reveals what she sees in her son's future due to his intelligence.
Tiny Harris just devoted a post to her son Major Harris sharing an adorable photo of the two of them. It's clear the 10-year-old boy has a special place in his mother's heart as she gushes about his intelligence and future as president.
Major is Tiny's second child with rapper T.I. The married couple also has an older son, King, 14 and younger daughter, Heiress, 2. Though Tiny would often be pictured with her youngest, Major has always been a source of pride and joy to his parents.
Tiny's latest post reveals how proud she truly is of the young man. In the photo, she's seen hugging her son from behind as she delights in his visit. She writes,
"Forever mama's baby boy!! He's such a Taurus & all mine" before adding the hashtags "#MyGenius" and "#Future President."
Even T.I is amazed at how smart their son is. Back in May, the father shared an emotional post celebrating his son's graduation from elementary. T.I. spoke of Major's intellect referring to him as his "lil genius."
"You've been quite an impressive young man since a baby. Your maturity level is unbelievable. Your intellect is off the charts. Holding a conversation with you has always been like speaking with a grown ass man…"
Major just turned 10 in May and a party was held in his honor. It was made even sweeter by the fact that his father had just been released from jail in time for the celebration. T.I was arrested earlier due to an altercation with the security of his gated community. He was charged with disorderly conduct and public drunkenness but was luckily released in time to be with his family. In a post following his homecoming, T.I. shared a footage from the party where there's singing and blowing of candles and he was dancing with joy.
Please fill in your e-mail so we can share with you our top stories!