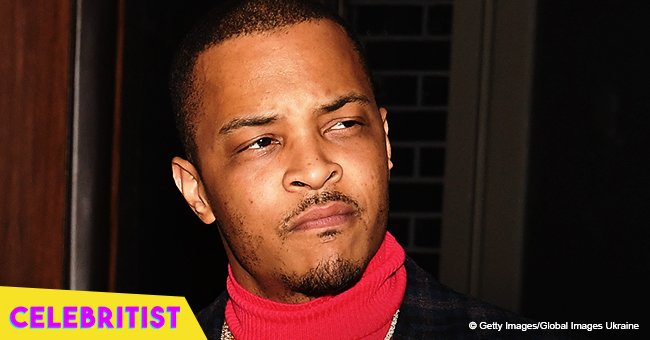 T.I. charged for drunken altercation with security guard

T.I. has been charged with three offenses stemming from a previous arrest back in May. His lawyer insists the charges are baseless as the rapper's fate regarding jail time is revealed.
Prosecutors have slapped T.I. with three misdemeanors for a previous arrest stemming from his altercation with a security guard in his gated community back in May.
TMZ revealed the rapper born Clifford Harris Jr. has been charged with simple assault, public drunkenness and disorderly conduct by prosecutors of Henry Country, and his lawyer, Steve Sadow, is speaking up in his defense.
It can be recalled the 43-year-old was arrested on May 16 after an incident he had with the guard at the Eagles Landing Country Club in Stockbridge, the community where he and his wife resides. Allegedly, T.I. arrived at the gate without his keys and was refused entry by security in charge, Euwan James. After T.I. supposedly used profanity and yelled at James, he was eventually allowed to enter. But upon arriving home, T.I. reportedly parked his car and walked back to the guard house to get James' name. It was at that moment that James called 911 claiming he was "threatened by a resident and he's here now knocking at the door." According to T.I., he got riled up when James started cursing his wife, Tiny Harris, who vouched for him.
Following charges filed against his client, Sadow released a statement deeming the charges as "baseless, ill-founded and unjustified." Speaking to the Atlantic Journal-Constitution, he insisted,
"T.I. never threatened or acted in a violent manner towards Euwan James, the security guard. Indeed, we understand the security guard was fired for the way he handled the situation with T.I. We had sincerely hoped that the Henry County Solicitor had better, more important, things to do to serve the Henry County community than prosecute an African American over a verbal dispute during an encounter with a security guard who was asleep at his post and was unwilling to provide his name to T.I. so T.I. could report the guard's misconduct to his employer."
Despite the charges, a source with knowledge about the case says T.I. will likely face no jail time, which would be a relief to his wife and his six children.
Please fill in your e-mail so we can share with you our top stories!