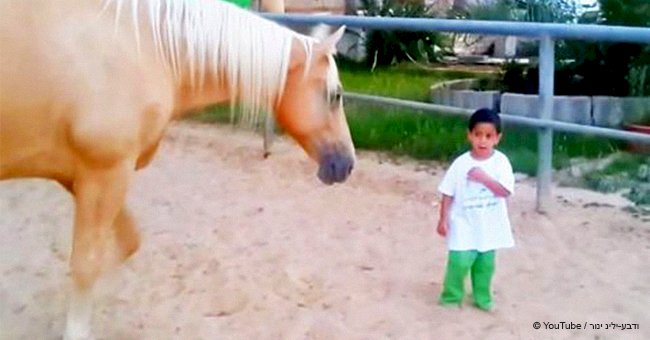 Horse walks up to boy with rare disorder as mom films their surprising interaction

An unlikely and unexpected connection between a boy with Williams Syndrome and a horse turns magical.
Williams Syndrome is a genetic condition, with only 150 patients in Israel documented having this syndrome, including Erez, four years old at the time of this encounter.
This causes cardiovascular disease, difficulty learning how to connect with both people and animals, causing developmental delays.
Read more on our Twitter account @amomama_usa.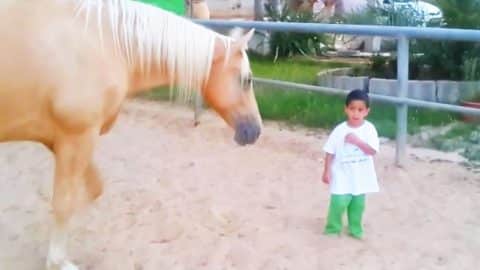 Source: YouTube
Pamela
writes:
"One of the problems among patients with the disorder is the right contact.

They are very loving…and enjoy the attention, but often do not know how to contact the right way."
WHEN THEY MEET
When Erez is unsure what to make of the approaching Palomino horse, it soon becomes clear what effects horses can have on us.
As the encounter unfolds the gentle Palomino approaches with relaxed curiosity while Erez is excited but unsure.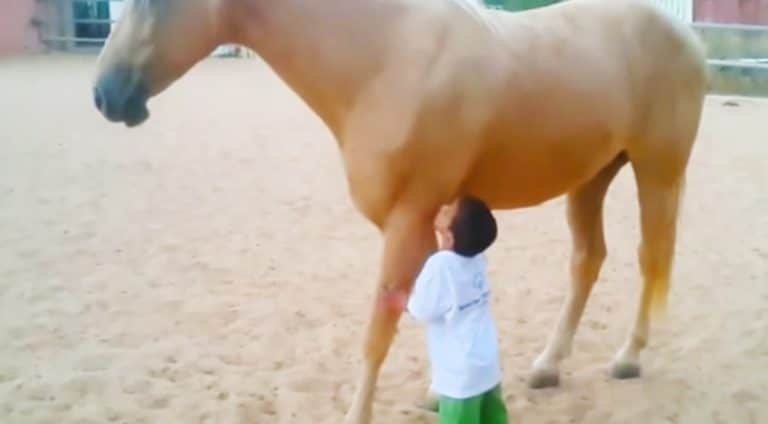 Source: YouTube
The Palomino keeps a calm posture, and soon the boy touches the horse's leg; the connection becomes clear.
Erez calms down and the horse even comes in for a cuddle as seen in the video filmed by Pamela, Erez's mother.
Pamela commented:
"I realized the power of that moment of my son and the horse.

The horse didn't dare change the angle it was standing as if afraid to hurt him or step on the child…"
Source: Freepik.com
Horses are remarkable creatures known to be intuitive, capable of such a powerful positive change in us, while their presence can calm, reassure and heal.
They help reach achievements that might not be otherwise obtainable for those with developmental delays.
For more about the story click the link.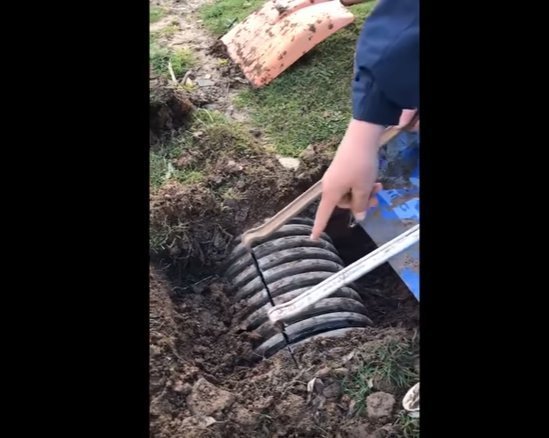 Source: YouTube/Rumble Viral
There are instances where the tables are turned and we are able to help out animals too, for instance, when 2 girls find an unusual animal stuck in a pipe.
THE ENCOUNTER
Project Horse, an equine therapy organization deals with Equine Assisted Learning.
They provide therapeutic services to individuals, groups, and families and offer different kinds of courses which are tailored.
To find out more about the great work they do and about Equine Assisted Learning click here.
Please fill in your e-mail so we can share with you our top stories!