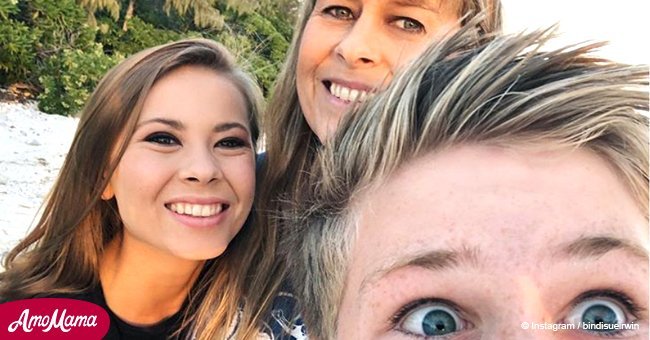 Irwin family prepares something special for Steve's fans and we cannot wait
Steve Irwin's family is continuing his legacy with a new TV show.
Bindi Irwin announced this week that "Crikey! It's the Irwins" will be launching on Animal Planet on October 28, 2018.
Steve Irwin's daughter made the announcement on her Twitter account, @BindiIrwin, and the post has garnered over 3 million views, and over 40,000 shares in less than a week.
Since her father's tragic death 12 years ago, Bindi, her brother, and their mother have worked tirelessly to fulfill Steve Irwin's dreams.
"'Crikey! It's The Irwins!'I am so happy to announce that our brand new Animal Planet series will be airing on October 28th. We can't wait to share our story with you as we continue Dad's important work."
Bindi Irwin, Twitter, September 11, 2018.
THE SERIES STARS THE WHOLE IRWIN CLAN
Bindi posted a teaser video of the new series, in which she will co-star with her brother, Robert, 14, and their mother, Terri, 54.
"Crikey! It's the Irwins" was inspired by Irwin's original series "The Crocodile Hunter". The series will show the family working with animals like crocodiles, tigers, and rhinos at Australia Zoo, which was founded by Irwin.
"THE CROCODILE HUNTER" MADE DOCUMENTARY HISTORY
The "Crocodile Hunter" ran from 1997 through to 2006. The series is the second longest-running program of any Discovery Communications network show, behind "MythBusters".
The show ended when Steve Irwin died after sustaining heart injuries from a short-tail stingray barb that pierced his chest while he was filming an underwater documentary in Australia.
THE IRWINS ARE BACK ON TRACK
This will be the first time the Irwin family will appear together on Animal Planet since Steve Irwin's death.
The family will be taking on the same unconventional attitude to wildlife and conservation that made Irwin the best-loved activist and conservationist on the planet.
STEVE IRWIN HAD A PREMONITION THAT HE WOULD DIE YOUNG
Terry Irwin revealed that her husband had had a "feeling" that he would die young.
The Australian wildlife celebrity told his wife before he was killed in 2006 that he believed he would die "doing what he loved".
Irwin, who had two children with Terry, was planning to step back from his work and concentrate on his young family when he died.
Irwin was filming in Queensland, and Terry was in Tasmania with her children when the news of her husband's death reached her,
In a related story, Steve Irwin was awarded a star on the Hollywood Walk of Fame, more than a decade after he passed away.
Please fill in your e-mail so we can share with you our top stories!