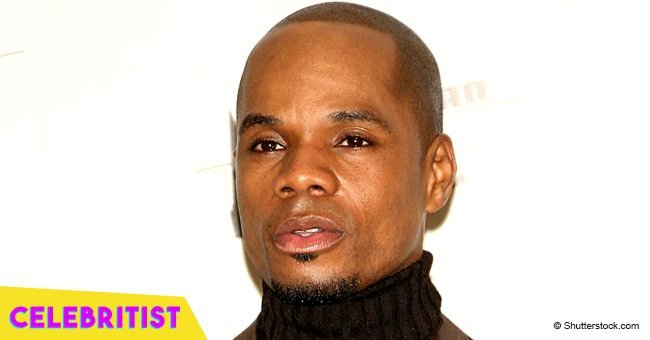 Kirk Franklin forgives his biological father who has 3-6 months to live in heartwarming photo

On September 16, gospel singer Kirk Franklin shared a touching revelation with his Instagram followers. Franklin revealed he had just forgiven his birth father and shared a photo with the man who has less than a year to live.
Franklin was pictured planting a kiss on his father's head. His caption was a lengthy heartrending one that moved fans across the world. Many have also praised The "A God Like You" singer for stepping up and doing the right thing.
Franklin's outpouring revealed the hatred and bitterness that had stayed with him all through life. It also showed his greatest motivation to be an excellent father to his kids:
"Two days ago, I received an anonymous call that my biological father, who I never knew, has 3-6 months to live. I've lived my entire life hating this man. He and my biological mother gave me up for adoption, and it left me never feeling good enough....to this very day. I took my hate for him and used it as fuel to be the best father I could be for my own."
The nine-time Grammy winner then owned up to his errors, explaining that his actions did not conform to doctrines of the gospel he claimed to teach. It was this realization that drove him to make amends with the man who fathered him 48 years ago.
"But what I did wrong, is I never took that fuel, and turn it into forgiveness....and that is wrong. Wrong for him, me, and the God I proclaim to represent. How can I preach what I don't practice. So I flew to Houston yesterday to do that."
"It's painful, it's a process," the father-of-four admitted, before asking fans to pray for his father.
"How disappointed I would be in myself for this man to leave this earth without being forgiven. He deserves to receive what God gives me every day. Pray for him, and for me. God this is hard...I weep as I write,"
He finished.
His post was trailed by comments praising him for doing the right thing and praying that he receive strength to keep going on.
"Thank you for being so transparent! Praying for you both!!" one fan wrote.
Another fan prayed: "Yes Lord! Help them both to embrace what is in your plan. We work for you Lord! Amen"
We're glad to see Franklin and his father reunited in love. Here's praying that they receive all the strength to go through this tough time.
PRAYERS FOR FRANKLIN AND HIS SON TOO
Meanwhile, Franklin himself has a rocky relationship with his eldest son, Kerrion, captured below.
The boy, who Franklin welcomed with a girlfriend before marrying Tammy Collins, recently accused his father of trying to kill him. We hope Kerrion and Franklin can mend their bridges soon as well.
Please fill in your e-mail so we can share with you our top stories!