Kirk Franklin's estranged son posts powerful words after accusing dad of trying to kill him
Kirk Franklin's estranged son has accused his father of trying to kill him and sends a message on social media to protect his safety. Weeks later, he posts a powerful message that throws further shade on Kirk. 
Kirk Franklin is front and center in his son, Kerrion Franklin's recent social media posts. The gospel artist was first accused by Kerrion of trying to kill his son. Later, Kerrion shared a quote about parenting that seemingly alludes to his current problems with his father.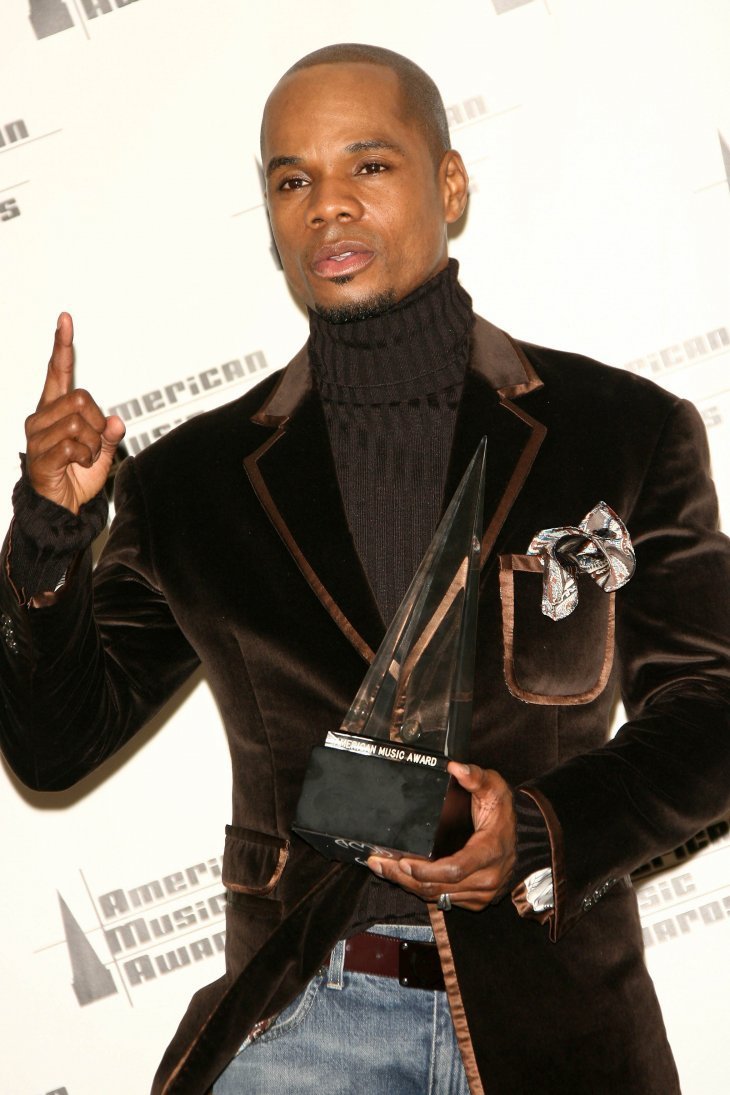 Born in 1988, Kerrion is Kirk's son from a relationship that came before his marriage to his wife Tammy. The father and son are estranged. Last month, Kerrion surfaced on social media and made the astounding accusation of fearing for his life due to his father. 
In an Instagram post that has since been deleted, Kerrion typed the words 
"MY OWN FATHER IS TRYING TO KILL ME." 
Kerrion also described his father as a "sneaky ass" in his caption and claimed Kirk was hiding from him in LA. Kirk's eldest child said his reason for his post is to ensure his safety and added,
"I can't deal with this [expletive] on my own anymore. I'm done. My life is too valuable…in real time."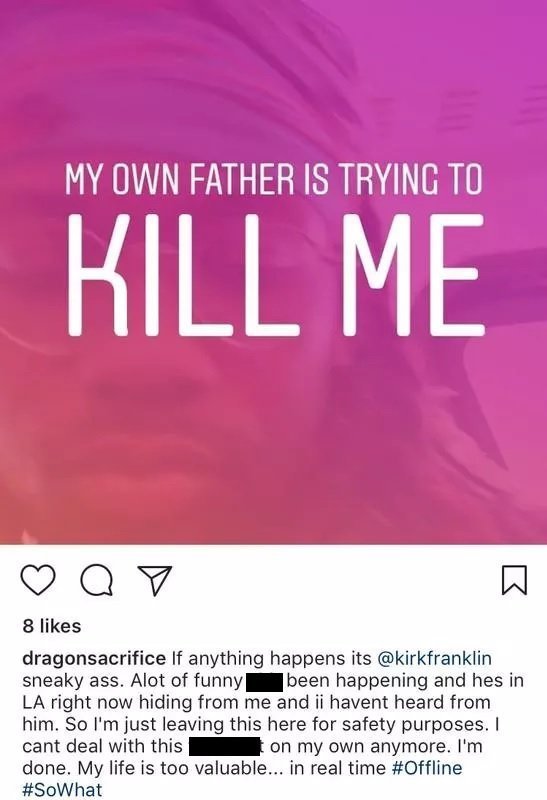 Kirk and Tammy share two children together- daughter Kennedy, born in 1997 and son Caziah, born in 2000. Tammy also has a daughter from a previous relationship, Carrington, born in 1989, who Kirk legally adopted. 
Reports suggest Kerrion has been the black sheep of his family with a persona that clashes with his father's clean Christian image.  A post of his two weeks ago shows his eccentric side as he delivers poetry. 
Weeks after Kerrion accused his father of trying to kill him, he posted a cryptic quote about parenting. Seemingly alluding to the kind of father Kirk is, the quote read, 
"Healthy parents build up their children to be independent in life. Narcissistic parents tear down their children to keep them dependent on them for as long as they live."
Kerrion identified what kind of parent he has when he added the handle "@childofnarcissist" at the end of the quote.
In his caption, he updated his followers that he was in the process of healing and said,
"I heal more every day. Getting stronger in every way. The weight of the world makes us diamonds. Keep blinding. #ReflectWell"
Kerrion's allegations come in the heels of another disappointing news within Kirk's family. A month ago, his sister was sentenced to 30 years in prison for drug-related charges. She had already been serving ten years in jail when the sentence was proclaimed. Kirk announced the sad news on Instagram with a post captioned "rough week' and revealed his regret of not being able to do more to help his sister. 
In 2015, Kirk opened up about his sister's struggles with drug addiction brought about by her relationship with a man. After the suicidal deaths of Kate Spade and Anthony Bourdain this year, Kirk also alluded to his sister's battle with depression and mental illness and urged others with similar issues to "Get help." 
Now that his reputation is being maligned by his own son, it's unclear how Kirk will respond. There have been no reports of the song writer's reaction regarding the accusatory posts.