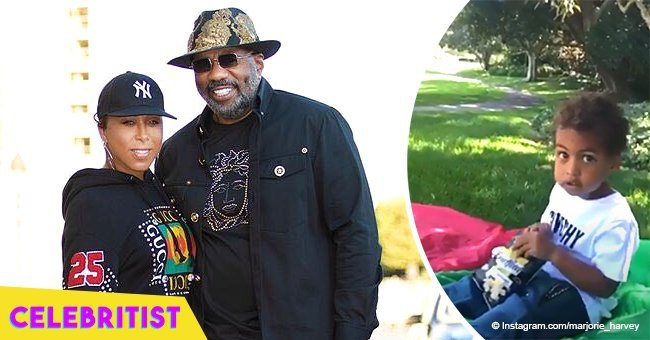 Steve Harvey's grandchildren steal hearts with their 'training' in recent video
Steve Harvey's grandchildren make their grandmother Marjorie Harvey proud as she shares an adorable video of what they did at the start of a family picnic.
A recent video of Steve Harvey's grandchildren posted by his wife Marjorie Harvey reveals the good training they've been getting from their parents.
In the clip, the two youngsters, Rose and Noah, were fervently praying before enjoying a snack at a picnic.
"Thank you, Lord, for blessing us with this food to nourish our bodies … Amen"
Proud of what she witnessed, Marjorie praised their parents Amanda and Jason in her caption for raising their children well.
"Train up a child in the way he should go Great job Amanda and Jason! @theamanda_h @jlaharvehh #Rose #Noah #proudmom #proudnana #greatparents @amazingkidco."
Fans likewise agreed the moment showed great parenting skills.
"Absolutely beautiful they are so precious great job to the parents May God continue to bless you all"
"So precious to hear that children are taught and allowed to pray from their little hearts!"
"This is so sweet. The best lesson you can teach a child."
Steve and Marjorie have five grandchildren in total, the youngest of which was just born this month. Steve announced the baby boy's arrival on September 7 by sharing a photo of the precious baby and revealing his name and significance in their lineage.
"5th grandchild 3rd boy he's the tie breaker lil EZRA is here…so happy another HARVEY Boy…#familyiseverything."
Steve has always been very vocal about his grandchildren when he delights in them and even when they become a burden. Just recently, one of his spiels in his show poked fun at his issues with having grandchildren.
"I've been waiting years for my kids to get out of my house. I wanna be an empty nester. Now they come back to the house and they got some more people with 'em. They always bring 'em over and drop 'em off. And I'm going 'Now, I been talking to my girl all day long. All we been talking about was what was gon' happen tonight. Then, I get to the house and here they is!"
Ezra is Jason and Amanda's third child and joins his siblings Noah and Rose along with his cousins Elle and BJ. BJ was the boy Steve recently showed off as a "player" when he shared a video of the toddler trying to impress a little girl. In the amusing clip, the confident young boy walks up to a little girl and breaks into dance in an effort to impress her. His grandfather who already noticed the telltale signs of a player in the little boy hilariously described his grandson's actions in his caption as "what your insides is doing when you meet a girl." Here's that adorable clip.
Please fill in your e-mail so we can share with you our top stories!