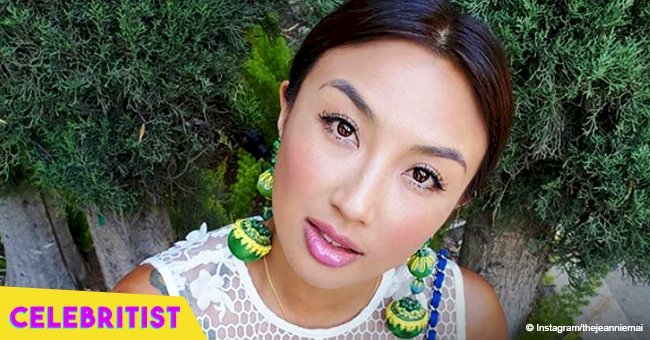 Jeannie Mai flaunts fuller curves in see-through blue dress after gaining weight

"The Real" co-anchor Jeannie Mai continues to flaunt fuller curves, much to the delight of her fans. Mai recently shared photos of herself in a see-through blue dress, along with a message about the woman's body.
In one of the pictures, Mai posed against a colorful floral backdrop that was the perfect contrast to her "lady in blue" ensemble. She donned a form-fitting royal blue dress that went just a few inches below her knee.
The suede dress featured long sleeves and a creatively positioned see-through paneling that showed off the star's cleavage.
A WOMAN CONFIDENT IN HER BODY
Pointy-toe heels, a silver clutch, and minimal jewelry created the perfect finish to her bold outfit choice. Alongside the first image, Mai penned a revealing note about her perceptions of the female body. She wrote:
"I wear what makes me fall more in love with myself because of the way it makes me feel. And I'm here for designers who get that a woman's body isn't a shape. It's an experience."
Mai's fans came up in the comment section to let her know just how much they agree with her, like this user:
"I am so proud and highly inspired, not just by your beautiful physical transformation, but simply by your amazing spirit/new attitude. You're absolutely stunning inside out. Keep on keeping on Jeannie because YOU ROCK!"- @carhan313
T
HE BIG MOVE FROM OBSESSION TO ACCEPTANCE
The "How Do I Look" fashion expert has been going through a lot of changes in her life lately, and her body shape is one visible aspect.
Mai, who has gained some weight in recent times, took to Instagram earlier this month to share her workout regimen with fans. Alongside a video of herself exercising with her trainer, the TV personality listed her current routines, also taking the time to educate on what each exercise produced in the body:
"Bench Squats: Clean up form, watch them knees, get low to see that femur (thigh bone) parallel to the floor. (Twerkers rejoice)."
"Hip Thrusters: QWEEN of building booty, hamstrings, back muscle. This exercise gives you optimal hip extension- power in your glutes, the most powerful muscles in ur bod."
"Cable kickback: Targets all 3 glutes (minimus, medius & maximus, low-back, builds the BOOTY SHELF"
"Deadlifts: legit Mai fave exercise of all time. All-bawdy, all day. DLs train from your feet to your hands and everything in between."
After revealing a weight gain of 17lbs on Instagram, Mai opened up to People in May about her obsession with being thin.
She explained that for over 12 years, she remained at 103 lbs, over-controlling her food, and becoming addicted to weighing herself.
SHEDDING OFF THE PAST
After deciding to do away with the scale and transform her body, however, Mai says she feels more like a woman than ever before.
The 39-year-old, who split from her husband, Freddy Harteis last October, had this to say to anyone going through what she did:
"You know yourself if you are at an unhealthy weight, only you would know this. So if you're that person, what would your body be shaped like if it was the strongest version of you? If you can apply that to a health plan to get it into that shapely, strong indestructible form of you, I think it would look different than the controlled skinny version you're trying to be."
Meanwhile, Harteis and his model girlfriend Linsey Toole will welcome their daughter any moment from now.
Please fill in your e-mail so we can share with you our top stories!