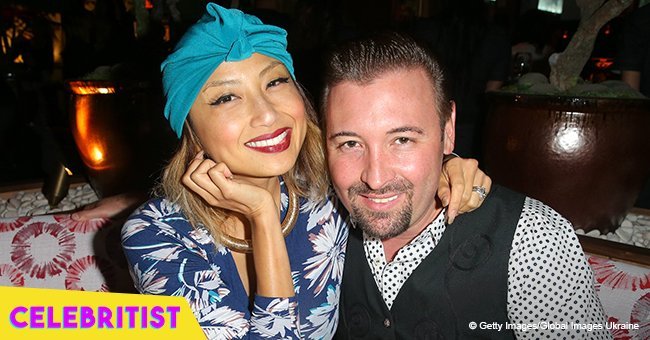 Freddy Harteis' girlfriend shares first ultrasound pic of their baby & reveals her beautiful name
Freddy Harteis' girlfriend, Linsey Toole, took to Instagram to share ultrasound photos of their daughter. She also revealed the name they finally settled on for the unborn child.
Harteis, who is the ex-husband of "The Real" co-host, Jeannie Mai, already expressed his excitement at the imminent arrival of his first child. Now, he and his girlfriend, Toole, got to catch a glimpse of what she will look like.
THE STORY BEHIND THE NAME
Toole accompanied the photos with a lengthy caption on the process that led to the selection of their daughter's name. After reflecting on what the love of a child meant to her, she began:
"People were so judgey about naming the baby after my dog for some reason. So instead, I went with Rose. In honor of the human I love to the core of my existence. (her rose thorns and all) My EXTREMELY affectionate baby sister. I'm sure she's just dying to hug and kiss me as we speak."
The model further clarified that "Rose" would be the child's middle name:
"So, this little pink blobs official name is:

Emersyn Rose (Emmie Rose)

Disclaimer: mama picked Emersyn. Dear lord if I don't mention that to the whole wide world I'll never hear the end of it!"
THE STRUGGLE OVER THE NAME
Toole admitted that it took her a while to finally accept the name she had chosen and took the opportunity to chip in some wise words:
"I struggled when I started to notice the middle name Rose was increasingly popular. I shuffled through a million other alternative[sic] and possibly much cooler baby names trying to be different. But I settled in a place where I realized that sometimes it's not about what everyone else is or isn't doing. Just like anything in life, it's about what something means to YOU."
DADDY'S GIRL
She finally explained why the name meant so much to her:
"And well, Daddy and I named my sister 29 years ago. I picked Savanna, and he picked ROSE. Daddy is no longer with us but I still kinda thought he'd dig Rose."
"And that's a little about what it means to me," Toole concluded.
The blond beauty and Harteis revealed they were expecting six months after Harteis and Mai ended their marriage of 10 years. Mai confirmed that her unwillingness to have kids was a primary reason for the split.
EVERYBODY'S HAPPY
Meanwhile, the "How Do I Look" host appears to have moved on as well. She was all-smiles four months ago when she took home an Emmy Award for "Oustanding Entertainment Talk Show" alongside her "The Real" co-hosts.
More recently, Mai flaunted fuller curves which she credits to her new resolve to eat better and lose the obsession to remain thin.
Please fill in your e-mail so we can share with you our top stories!