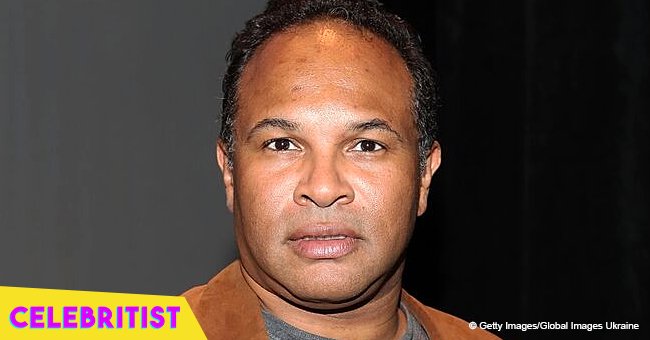 Geoffrey Owens bursts into tears after receiving son's message amid job-shaming
Geoffrey Owens, best known as Elvin Tibideaux in the 80s series "The Cosby Show," recently made headlines after being job-shamed for working at a grocery store. However, amid all the messages he got, the one from his son made him broke down in tears.
A customer recently recognized the 57-year-old actor at New Jersey Trader Joe's store, and the photos she took of the actor in the middle of his job became viral instantly. Owens felt humiliated by the turn some media outlets gave to his story, make him seem like a failure and job-shaming him for having a regular source of income.
In an interview with People, Owens revealed that he was warned that the photos would be published, and he was scared of the humiliation that he and his family were going to experience. So, his first move was to warn his son, who studies in another state, about the situation.
He said:
"I texted my son and warned him about the story breaking. I actually apologized to him for embarrassing him, because I knew that he's in school away from us. I knew his classmates would see it and he'd be humiliated and embarrassed. I apologized to him."
After the article, initially published by the Daily Mail saw the light, Owens started to receive a wave of support messages from fans and friends, letting him know there was nothing wrong with his job. But it was his son's message that finally made the actor break down.
"Even before the wave of support rolled in within an hour or two, he sent me a beautiful text back about how proud he was of me. I cried, I just broke down. He felt the opposite of embarrassment. He was so proud that I had taken the job. It was beautiful."
A CONTROVERSY TURNED INTO A BLESSING
The actor also revealed that the attention he's been getting after the photos were published has been overwhelming, but that has become a blessing in his life.
Fellow entertainers have reached out to Owens to show their support, like Nicki Minaj, who cursed the woman who took the photos in the first place and sent $25,000 to Owens as a "token" of her appreciation.
Tyler Perry also offered Owens a role in OWN's series "The Haves & Have Nots" via Twitter, calling the actor a "true artist" for being able to hustle in between acting gigs. According to CNN, Owens gladly accepted the role and will be appearing in several episodes of the series' next season.
On top of that, Christopher Silber, executive producer for "NCIS: New Orleans," revealed that Owens would be making a special guest appearance on the show. "So excited he'll be joining our extended family. Total class act!" Silber stated.
Owens will appear on the sixth episode of the upcoming season and is set to play Commander Adams, "an old and valued friend who Pride (Scott Bakula) goes to for both medical and spiritual advice," as reported by Deadline.
Silber had only good things to say about Owens, calling him the perfect choice for the character, as they needed someone with "compassion, competence, and heart." "An accomplished actor who seemed like the perfect fit to add to our extended repertory company. We're lucky to have him on the show," added Silber.
AN IMPULSIVE ACTION TURNED INTO BACKLASH
While Owens has been receiving an outpour of love from the industry and the fans, the woman who first took his pictures has been getting an entirely different treatment.
As Celebritist reported, Karma Lawrence has expressed she regrets her actions and wishes she could take it back. After her initial post, now deleted along with her social media accounts, things spiraled down into the controversy that now surrounds Owens.
"I don't know why I snuck a picture. I figured everybody does it. I don't know what possessed me. I just did it. I didn't even think about it. I just kind of did it on impulse, and it was a bad impulse," she confessed to NJ Advance.
The 50-year-old alleged she never thought her post would become such a big issue, and claimed she didn't post the pics with bad intentions, she was feeling pity for Owens because she was aware how big of a star he was back in the day.
Lawrence said she wanted to reach out to Owens and adequately apologize to him, and she knows exactly what to say:
"I would tell him, 'I am extremely, extremely apologetic about what has happened. And if I could take it back, I would."
Owens, on the other hand, hopes that his case can be a lesson for people to understand that there's nothing wrong with any job. He said to CNN:
"A certain job might pay more, it might have better benefits, it might look better on paper, but that essentially one kind of work isn't better than another kind of work, that we reevaluate that whole idea and we start honoring the dignity of work and the dignity of the working person."
Please fill in your e-mail so we can share with you our top stories!