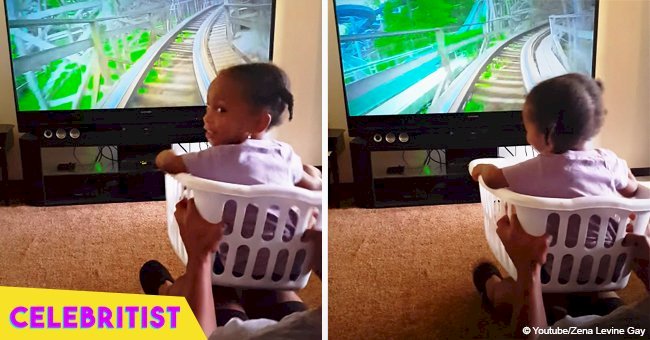 Little girl screams with delight, riding 'roller coaster' powered by dad in adorable viral video

One father is melting hearts on social media with his willingness to do anything to make his little girl happy.
He treated her to a world-class "roller-coaster" experience right on the floor of their living room.
A viral video shows little Kayla in a laundry basket. The basket is firmly balanced on her father's thigh from where Kayla embarks on her very own 3D roller-coaster ride.
The little girl and her ride operator are seated before a flat screen television on which the 3D animation is playing.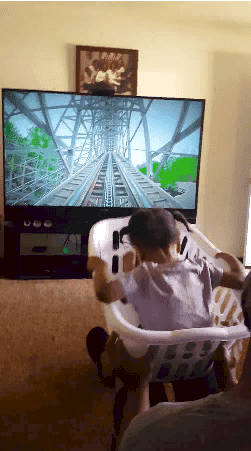 YouTube/Zena Levine Gay
Kayla's dad imitated the highs and lows of the roller coaster as depicted on the TV.
From the excited screams to her oh-so-innocent warnings for dad to be careful, Kayla stole everyone's hearts.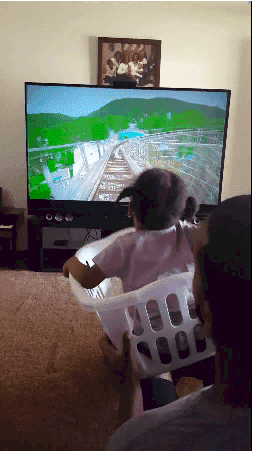 YouTube/Zena Levine Gay
Her mother, who filmed the whole experience, could not help laughing with her husband as they watched their little girl's joy.
Netizens are also hailing Kayla's father as an awesome dad. The family is proof that we can all have a good time without spending a dime.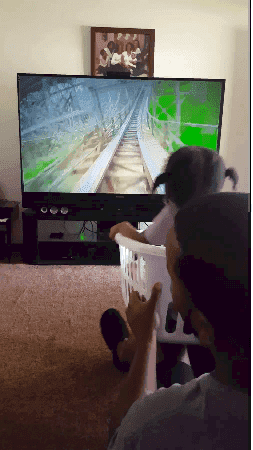 YouTube/Zena Levine Gay
Within a week of posting the adorable video, it had racked up more than 60,000 views and a ton of comments.
One YouTube user gave Kayla's ride a unique name:
"Who says u cant have a great time and make memories for free right at home! She'll always remember 'The Daddy Coaster'"
Another fan of the duo commended Kayla's father for his ingenuity:
"You are the Best Dad Ever. If we could bottle you and pass out to those who just don't know how to Father a child, no child would suffer. God bless you and your family!"
The delighted ride passenger is too young to go on a real roller coaster, but we're sure when that time comes, Kayla will be well prepared. She's had the best teacher any girl could ask for.
ONE MORE WORLD-CLASS DAD
Another dad that got social media tearing up is Glenn Edgerton. The father of YouTube Makeup Artist, Andrew, was passing by his son's room when he stopped to admire Andrew's work.
Glenn told his son the makeup looked so "freaking awesome" and the younger man could not help blushing a little.
The YouTuber uploaded the moment on Twitter with the caption: "why is my dad the sweetest most supportive person ever im [sic] crying."
Please fill in your e-mail so we can share with you our top stories!