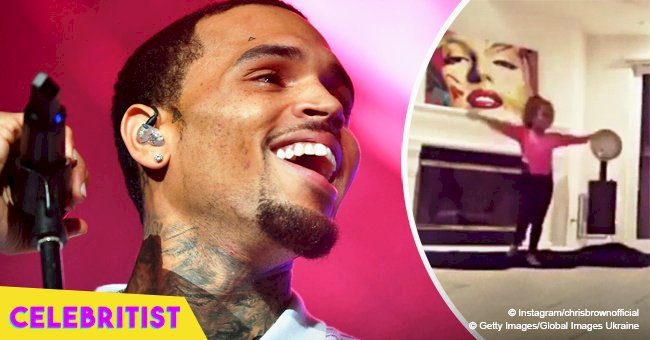 Chris Brown's daughter dances like her dad in adorable video
Chris Brown's 4-year-old daughter is an artist on the making, as shown in a recent clip shared by her proud father on Instagram. Royalty is in the middle of an ugly child support case between her parents, and it seems like the girl is acutely aware of the situation.
Royalty Brown has been winning fans all over social media with her adorable smile, outgoing personality, and amazing dance moves. The little girl seems to be eager to enter the entertainment industry just like her father, and she inherited Brown's ability for dancing.
In a recent video shared by the singer on Instagram, Royalty is learning some moves from dancer and choreographer Deja Carter, who first rose to fame for being a backup dancer for Zendaya. In the clip, Royalty is wearing a bright pink leotard and black leggings while making splits, the shoot dance and more, in the middle of a living room following Carter's instructions.
"GO CRAZY!!!" Brown captioned the adorable clip, which shows how happy Royalty is while doing something she loves.
Fans took to the singer's comment section to praise the girl. One user wrote "Love to see kids dance it show how happy they are. And yes, I agree she is going to grow dancing like her dad," and another added, "She wants to dance like her dad... so precious."
While Royalty looks happy in the video, it seems like the little girl might not always be in that mood thanks to her parents' child support legal battle.
ROYALTY AND HER WAY OF SOLVING MONETARY ISSUES
Is not a secret that the "No Air" singer and his baby mama can't see eye to eye in many things, and their relationship has only been deteriorating through the years, but it seems like their pettiness has reached a new level these days, and now Royalty is getting involved in their messy adult fights.
As reported by Hot new Hip Hop, court records show that the 4-year-old has caught up with her parents' financial disagreement and she's set out to solve their problems on her own. According to Brown's legal team statements, Guzman has been misinforming the girl about their monetary situation.
Guzman admitted she had discussed the issues with her daughter, but only because Royalty allegedly asked when were they moving into a new house. The girl is not comfortable at her mom's house, as, in comparison with Brown's, she doesn't have that much space in the two-bedroom home.
Questioning during the court proceedings revealed that little Royalty had taken $300 from her grandmother's purse and took them back to Nia's house. "She told me she took the money so she could buy me a house because she wanted her own room," Guzman stated.
NIA AND HER WAY OF PROTECTING HER DAUGHTER
Guzman is now asking for an increase on the child support money she gets from Brown, and she claims the extra money will be used to protect her daughter from her father's "crazy fans." The 35-year-old model believes her home is not safe for the girl, as anyone can easily found out where they live.
She says that Royalty is "trapped in my apartment. She can't go outside," and claims "there's a whole bunch of weirdos," including "People taking pictures from balconies."
Brown is currently sending $2500 per month in child support and pays $4000 for a nanny, but Guzman believes the singer can afford to spend at least $250,000 per month thanks to his flow of income.
Please fill in your e-mail so we can share with you our top stories!