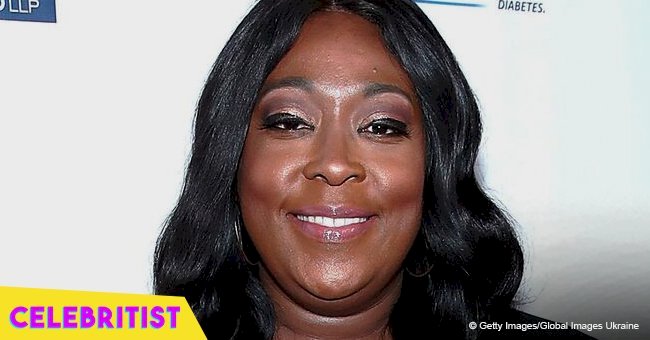 Loni Love shows off her slimmer figure in plunging red jumpsuit

Loni Love continues to wow with her slim figure as she attends an event in red. The comedian proudly revealed her weight loss a few months back and appears to have lost even more.
Loni Love rocked red in a recent event and her shapely figure stood out. The comedian attended the "Finding Ashley Stewart 2018" affair in New York and we're finding reasons to laud her appearance.
Back in May, Loni debuted a slimmer figure after announcing she lost 30 pounds. She told her viewers of "The Real" she did it by simply controlling portions of her food and working out. It was her second attempt at dropping weight recounting how her first try was a failure.
"The mistake that I made in season 4 was that I did a fast and I lost 50 pounds really fast and I ended up gaining about 70."
Loni knew better the second time around as she realized losing weight took time and there were no quick fixes.
She also knew that even though she lost weight, she wasn't thin enough for people to give her exaggerated reactions about her weight loss. On her show, she complained, "some people overexaggerate." She recalled a premiere she attended when a lady complimented her on her weight.
"I was at this premiere two nights ago, and the lady said, 'Loni! You're so thin!' And I'm like, 'B—h, I'm not thin like that!' It's like, don't overdo it!"
Now we're aching to compliment Loni's recent red carpet appearance and hoping she won't accuse us of overdoing it because she did look stunning. The actress was wearing a red jumpsuit and while we won't say she's thin, she looked amazing flaunting a trimmer frame. She highlighted her features with straight hair and bangs as she delighted in the attention of women surrounding her in the photo.
"My girls killed it tonight", Loni wrote in her caption, and we echo her sentiments by saying, she killed it too at the red carpet.
Loni's weight loss didn't only bring in the compliments her way but she also revealed it made things a lot more interesting for her in the bedroom. She said before losing the weight, she found it difficult to experiment on new positions which made it very limiting for her partner.
"It was only one position I could do because of my um — breath was getting cut off, when I tried to like lay on my back, because my stomach was in the way."
Lucky for Loni and her partner, that's changed now that she's lighter. And thanks to her friend and co-host, Tamera Mowry, she's keeping it that way. Last week, Loni posted a photo of the two of them taking a walk on the beach. Loni labeled it "exercising with a friend" in her caption with the hashtag #lonilosschallenge. It seemed Tamera was lending her full support to her co-host as she keeps fit and Loni was equally appreciative.
Please fill in your e-mail so we can share with you our top stories!