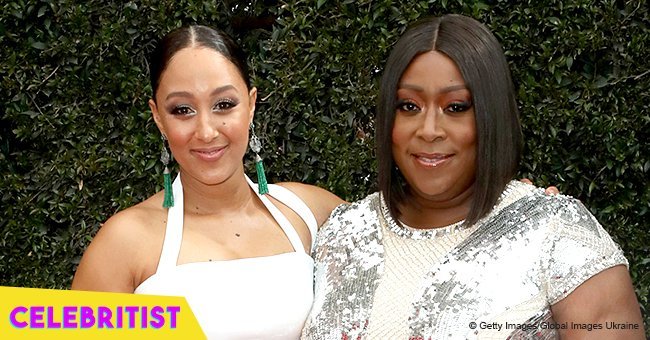 Loni Love continues her 'Loni Loss Challenge' as she exercises with friend Tamera Mowry in pic
Comedian and TV host Loni Love, best known for "The Real," took to Instagram to share a photo next to her friend and co-host Tamera Mowry exercising.
The post showed Tamera wearing a straw hat and sunglasses while flashing her smile at the camera. Loni was next to her wearing sunglasses and a colorful headband to cover herself from the sun.
Even thought the picture didn't show them doing any exercise, Loni wrote in the caption that they were walking and that working out with a friend "changes things up," adding the hashtag "Loni Loss Challenge."
As soon as she uploaded that image, her followers took to the comment section to share their thoughts. One of them was Instagram user @dolores_m714, who pointed out that she loved Tamera and Loni's friendship.
OVERDRAMATIC PEOPLE
While the host has been doing her best to lose weight, and people have been noticing it, she has run into some friends who tend to overreact on the compliments.
During a segment of "The Real," the hosts set clear that weight-loss compliments can be hurtful, and Loni told the story of a friend who told her, "Loni! You are so thin!" something that bothered the comedian who finished by saying, "don't overdo me."
HER ADVICE
In a different show, Loni revealed that people should take it easy and don't rush when it comes to losing weight because they could end up gaining more weight than what they lost.
The host revealed that she previously lost 50 pounds very quickly but that, since the process she chose was not adequate for her, she ended up gaining "like 70" pounds back.
FULL-BODY PHOTO
Loni recently took to Instagram to share a photo of herself posing in front of the poster of the movie "Peppermint" wearing a beautiful blue jumpsuit that had a deep neckline.
That was one of the first full-body picture that the host uploaded since she started her journey. In the caption, she revealed that she started the summer at size 24 but that she was at 18 at that point.
TAMERA'S HUSBAND FEELING BLESSED
Adam Housley, Tamera's husband, is deeply thankful because Loni has been there for his family while he has been gone working.
As a Fox News correspondent, Adam has been away from home several times, leaving Tamera with her two young children, Aden and Ariah, alone.
Thankfully for the couple, Loni has shown up several times to help her friend out. "[Loni] you are a sister I never had. My kids adore you and thank you for being there while I am covering such heartbreak," wrote Adam on Instagram.
Please fill in your e-mail so we can share with you our top stories!