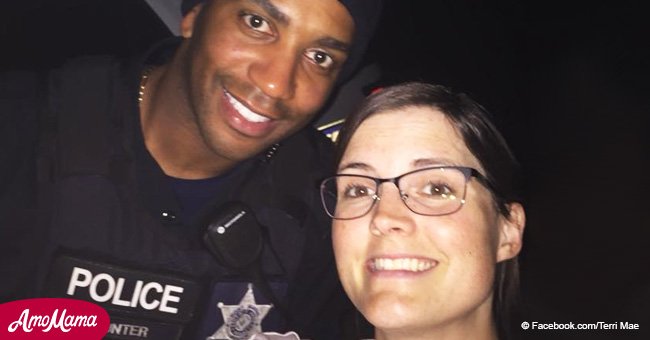 Woman thanks police officer who stayed behind just to make sure she was safe
Fort Wayne resident Terri Mae publicly thanked a police officer for going the extra mile to make sure she was safe in a parking lot.
Terri Mae posted a shout-out on Facebook, sharing a photo she took of herself with Fort Wayne Police Officer Hunter. Follow us on our Twitter account, @amomama_usa, to learn more.
"After an amazing first night back to Erin's House tonight... I was setting the alarm because I was getting ready to go and thinking about how my friend Benjamin wasn't there to walk out with me tonight... I get to the middle of the sidewalk and I look over and see a patrol car sitting out watching over the parking lot!" she wrote.
Terrie Mae said she walked over to thanked him. He then told her that he came back because he saw that there was only one car left in the parking lot and he wanted to make sure she got to the car safely.
"After talking I learned that, through many different avenues, he is a mentor to the youth in our area! How lucky are we to have such an amazing man keeping us safe! Thank you Officer Hunter! You blessed my night tonight!" she added.
COPS CAUGHT IN THE ACT DOING GOOD
In another heartwarming instance involving a cop, Charlotte-Mecklenburg Police Officer Tim Purdy was captured on film counseling a potentially suicidal teen with autism.
The incident happened in May in North Carolina where the teen, whom Purdy knew had a history of violent behavior, had wandered away from his home in the early morning hours. Purdy.
"I was just thinking to myself, 'What are you going to do? What are you going to do? How are you going to handle that?'" he recalled.
When the teen sat down, Purdy followed suit. "I got down on my knees and kind of made that eye contact," he said. "We just started talking, and it went from there."
They talked about school, family, and football. They were both laughing later on.
Please fill in your e-mail so we can share with you our top stories!