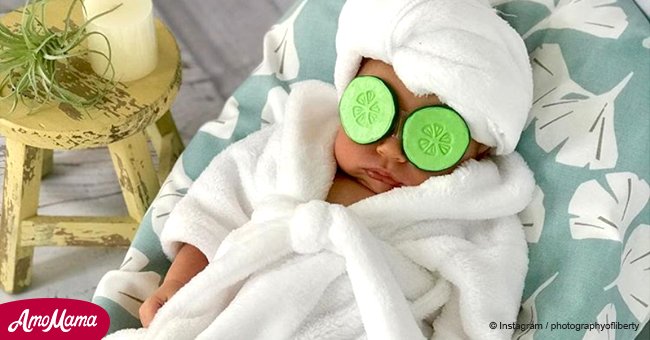 Woman inspired the Internet with adorable photos of 3-month-old baby dressed as celebrities
Jenelle is Wexler wowed the internet with her creative idea of dressing up her adorable newborn daughter with celebrity dresses and costumes.
According to a report from People, Liberty was only three weeks old when Wexler came up with the idea of designing a costumer for her that would resemble one of her favorite artists, Frida Kahlo.
The photograph she shared on Instagram showed her daughter dressed in an elaborate outfit featuring a colorful headpiece made of flowers.
36-year-old Wexler opened up to People about her idea and said, "I just kept thinking of all different influential women that I wanted to dress her up as. There were so many I could have her portray and help tell their stories."
Follow us on Twitter to learn more.
The source informed that since then Wexler has made her daughter about 20 costumes and each of these is decided after performing an intense research and ideation on how she can make the dress beautiful as well as informational.
"We come up with the idea and then I research the woman that I'm portraying. Then, I figure out their bio and what outfit I can come up with that is best going to portray the reference picture that I'm using," she further told People.
Wexler works as a hairstylist but also sews as a hobby. In her little child-free downtime, she is now giving her hobby a new dimension with the fashionable celebrity costumes designed for her baby.
She revealed that she works on these projects as much as she could while her children's nap time or when they go to bed.
Wexler admitted that Liberty has made her work a lot easier by staying calm and "chill" during the photo shoots.
Her costumes, as well as the stories behind them, have been adored by thousands of people on social media. Wexler stated that she is delighted by all the attention her hobby has gotten and proud of the way it is bringing people a lot of joy.
People often inspire and encourage in unexpected ways with a simple share of a photograph or a message that have profound meaning.
Just like Wexler, a mother from Perth, Australia also inspired social media users to let go of their body image issues with a simple share of her confident pose in a bikini.
Please fill in your e-mail so we can share with you our top stories!