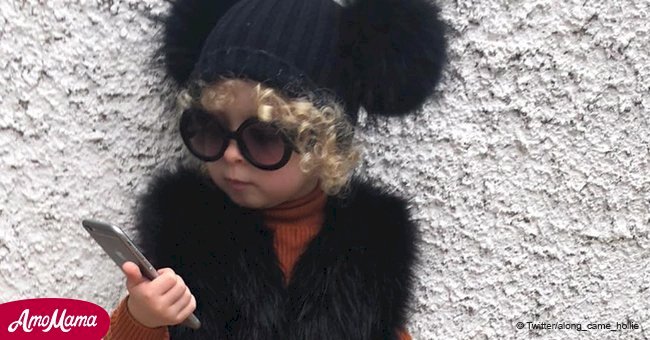 3-year-old girl becomes a dedicated fashionista who looks like a professional model

Get to know sassy 3-year-old Hollie, Dublin's very own toddler fashionist already acting like a professional model on Instagram.
Hollie Lawlor from Dublin, Ireland loves having her photos taken as she dons up in fashionable styles transforming her into a mini professional model in a variety of poses, mirroring various IG Icons.
She likes to dress up regularly like grown-up fashionists like Melissa Carter, Dominique Nugent, and Erika Fox, and then sharing her best poses on her Instagram account.
Read more on our Twitter account @amomama_usa.
Pamela
adds.
"At the age of 2, Hollie could already recognize designer logos and brand names"
But her mom points out she is just like any other 3-year-old despite her refined sense of fashion.
She adores animals and loves to watch Doc McStuffins, and hopes to channel her love of dancing and singing by joining a theater school this September.
Like Hollie, 1-year old Golden loves modeling clothes. The son of Nick Cannon recently joined his mother for a photo shoot for her new clothing line, for adults and children. For more on this follow the link.
When Pamela was asked how it all started she had this to say:
"I initially started making Hollie's clothes when she was born and I started to sell them as I got so many compliments when we were out and about.

But I went back to work after my maternity leave and didn't have time to continue with the Facebook business, so I carried on making outfits for Hollie and am still posting pictures up online!"
Even Hollie's dad, William, is in involved and plays photographer while Hollie and Pamela bond over their shared love for fashion, Pamela comments:
"Hollie is full of sass, and loves having her photos taken."
Hollie seems to be a natural born model with a trademark personality, and her mother, Pamela, will tell you that everything she does is 100% her.
A list was compiled showcasing 11 of the most stylish kids on Instagram.
To get up to speed with the latest darlings on Instagram you can follow this link.
Please fill in your e-mail so we can share with you our top stories!