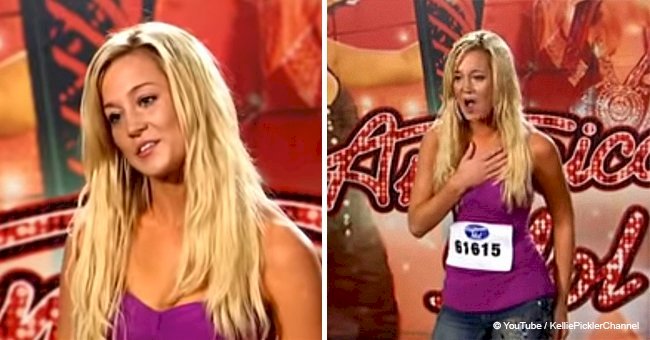 Kellie Pickler's performance at 'American Idol' conquered thousands of hearts around the country
Kelly Pickler wins the hearts of the judges with her amazing performance and they're blown away.
She first auditioned for American Idol in Season 5 and blew the judges away with her amazing voice which lead to her success in landing a singing career. She went there with confidence and succeeded, and she's proven that she has what it takes to go to Hollywood. This 19-year-old was going places and she knew it!
Follow us on Twitter @amomama_usa to watch this amazing performance.
Kelly Pickler has made a name for herself in the music industry thanks to her confident attitude and amazing voice. This Northern Carolina 19-year-old had the judges wrapped around her finger with her charm and engaging performance. She walked around owning the audition area and even approached the judges, showing them she wasn't afraid of anything.
HERE'S HER AUDITION IN SEASON 5 OF AMERICAN IDOL
The performance that got the next level audition was Kelly Clarkson's "Since You've Been Gone", and Martina McBride's "Broken Wing".
WATCH KELLIE'S FLAWLESS PERFORMANCE OF "WALKING AFTER MIDNIGHT"
"Walking After Midnight" by Patsy Cline, which was tall shoes to fill but she sings it flawlessly and owns the song. If there's one thing judges look for in an audition along with talent, it's confidence and stage presence, which Kellie possessed.
HERE'S PATSY'S LIVE MUSIC VIDEO TO BRING BACK THOSE CLASSIC MEMORIES
Patsy Cline was known as a music icon back in 1957, landing her first hit single, "Walking After Midnight".
Kellie proved that she is versatile when singing music genre, but her heart was in country music. Since then, she relocated to Nashville and landed her first record deal - releasing her debut album only two months after signing with BNA.
Kellie made a guest appearance on the Steve Harvey Show which you can check out on Facebook for a recap.
Kelly has her own Talk Show called, Kellie Pickler Talk Show and you can also follow her on her Pickler & Ben Twitter to keep up to date where they are live from Nashville, sharing some exciting news.
Please fill in your e-mail so we can share with you our top stories!