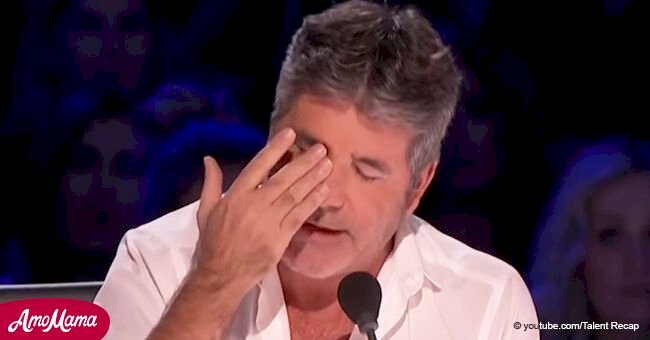 'AGT' finalist Michael Ketterer gets the collaboration opportunity of his dreams
Michael Ketterer was one of the 10 finalists who took to the stage for the finale of "America's Got Talent." The contestant sang his heart out and also received a great surprise on Monday.
One of his favorite country musicians Garth Brooks accepted judge Simon Cowell's request to write a song for the contestant. In fact, the two are set to perform together.
On Tuesday, Michael Ketterer, 40, took to the "America's Got Talent" stage to sing "Ain't No Mountain High Enough." He dedicated his song to "my God because he moved mountains."
The contestant is a pediatric mental health nurse who is from Knoxville, Tennessee. His performance left the judges and fans in awe of his talent.
For more on this story go to our Twitter account @amomama_usa. Ketterer was chosen as Simon Cowell's Golden Buzzer winner in the auditions round.
After his performance, the singer was praised for pulling it off once again.
Judge Mel B said, "That was a brave thing to do, you stripped it all the way back. I know your integrity and voice, but well done for being that brave."
Cowell added, "I would love to be able to give your family the million dollars and the chance because you're an amazing guy. You were nervous, but that makes you human. You're a great, great person."
Ketterer is in the finals with 9 other contestants including magician Shin Lim, dance group Zurcaroh, aerialists Duo Transcend, comedians Samuel J. Comroe and Vicki Barbolak, violinist Brian King Joseph, and fellow singers Daniel Emmet, Courtney Hadwin and Glennis Grace.
However, even if Ketterer doesn't win the competition and get the $1 million, he already won big. On Monday, the father of 6 found out that country legend Garth Brooks had responded to Cowell's semifinals request 2 weeks ago.
At the time, the judge had asked the singing icon to write a song for Ketterer if he made it to the finals. So during an episode of Brooks Facebook Live video series called Inside Studio G, the singer addressed the request.
He said, "I told Simon last week, the opportunity to write, and the opportunity to write for someone else, I haven't done that in a while."
Brooks invited Ketterer to sing with him at his sold-out Notre Dame Stadium concert on October 20.
"We're going to suit you up with a band. We're going to put you out in front of 85,000 of the sweetest people you've ever played for before, and they're going to be pulling for you like no other. This is going to be good," the country singer added.
Ketterer won the hearts of the judges and fans when he opened up about how he had almost lost his wife, Ivey, and daughter, Sofia after Ivey gave birth. Doctors told Ivey that she would get sick again if she got pregnant a second time.
The couple then adopted 5 children in Knoxville through Childhelp.
Please fill in your e-mail so we can share with you our top stories!