Pet owner shares horror story after losing hands, feet, and part of his nose from a dog lick
Greg Manteufel is a West Bend, Wisconsin, resident who's had his life change completely this year. On June 26, he started feeling unwell and had to be rushed to the hospital.
When tests were done, doctors found that he had contracted a rare blood infection from a dog lick. In subsequent days, he had operations to amputate his limbs and part of his nose.
Greg Manteufel, 48, is lucky to be alive after undergoing seven surgeries. In June, he thought he was coming down with the flu because of the symptoms he was experiencing.
"It felt like a fever and when I tried to go to the bathroom in the middle of the night, my feet were just out of it," he said. "I had no power to get myself to the bathroom."
For more on this story go to our Twitter account @amomama_usa. His family rushed him to a local hospital as his face began to turn black and blue.
Doctors at the hospital evaluated him and transferred him to Froedtert Hospital in Milwaukee. There he underwent treatment for a rare blood infection caused by capnocytophaga.
According to the Centers for Disease Control (CDC), it is a bacteria found in the mouths of many dogs and cats. The bacteria are harmless to the animals.
However, if it's spread to humans through saliva, which is extremely rare, it can cause fevers, diarrhea, headaches, and vomiting. The National Center for Biotechnology Information said the infection could also lead to "severe sepsis and fatal septic shock, [and] gangrene of the digits or extremities."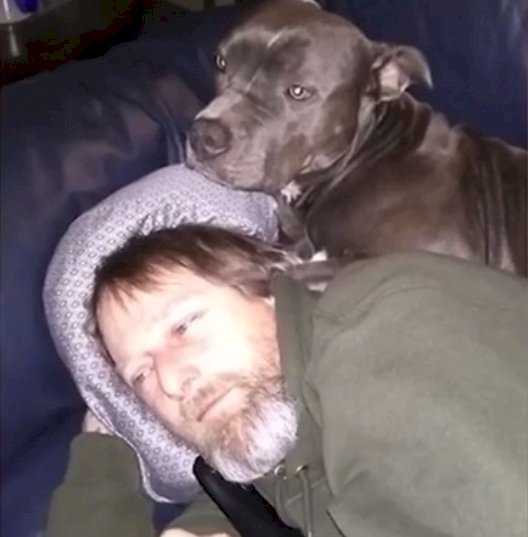 Manteufel has now speculated on how he may have gotten the disease. Two days before he got ill, he was at a birthday party where he came into contact with numerous dogs that were brought by guests.
That's where he might have gotten infected.
"I touched all the dogs that were there, I pet 'em all, I love dogs," he shared.
"What might have happened was I touched one of the dogs or they licked my hand and then I rubbed my eye or my mouth or something, because I didn't have any scratches or bites on me, open sores or nothing like that," he speculated.
Manteufel, who owns an 8-year-old female pit bull, said he'd never had health issues from petting dogs before.
He added, "The doctors told me I could have probably hit the lottery five times that day before I should have got what I got that day from a dog."
When his medical situation grew critical, he asked doctors to do whatever it took to keep him alive. His body had decreased circulation to his limbs in response to the infection.
It forced doctors to amputate his legs and two weeks later his forearms were gone too. His wife, Dawn Zwicker-Manteufel, has supported him at the hospital as he recovers.
A GoFundMe account was set up to help the family with medical costs. Part of the money will go to Manteufel to be getting fitted for leg and hand prosthetics once he leaves the hospital.
His family will have to sell their two-storey home to look for a place that will be more suitable for him. Despite the major change, Manteufel remains positive and is looking forward and not backwards.
DOG LICK DEATH: Wisconsin woman's death attributed to infection from a dog lick: https://t.co/1lSLmzohnY pic.twitter.com/N0UpitJDxb

— ABC 7 Chicago (@ABC7Chicago) August 13, 2018
In a similar but more tragic case, a woman named Sharon Larson, 58, had just gotten a puppy. The dog nipped her, causing a minor cut and a day after taking him to the vet for a check-up; she was rushed to the hospital.
"I was told she could get struck by lightning four times and live, win the lottery twice," Sharon's husband Dan Larson said.
He thought she had the flu but within two days she'd passed on from the same infection as Manteufel.