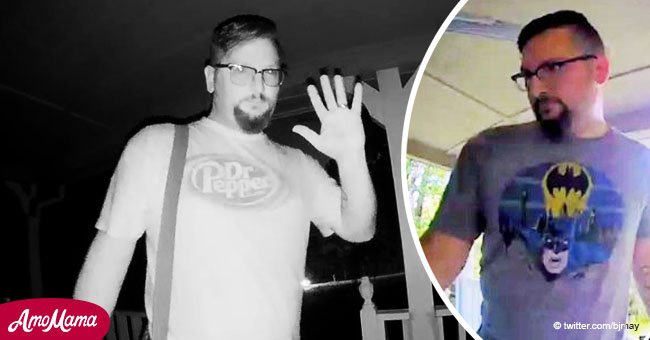 Homeowner locked out of his house after security system mistakes him for Batman
A Georgia homeowner found himself in a peculiar predicament when he left his home recently. On Tuesday, B.J. May posted on Twitter what occurred when he stepped out of his home.
Returning to his house, the homeowner tried to go in but his house locked itself using its security system. Finding it strange, May checked his security's app and found the hilarious problem.
When B.J. May left his home he was wearing a purple Batman T-shirt. The T-shirt had a clear image of Batman's face in cartoon form right on the front.
Arriving home, May was surprised when his Nest security system doorbell wouldn't let him back in. He decided to check the app that accompanies the system and found the funny problem.
For more on this story go to our Twitter account @amomama_usa. On Twitter, he explained the strange occurrence.
"My @nest doorbell automatically locks the front door when it sees a face it doesn't recognize. Today it didn't recognize me, so I went into the app to investigate and...," May wrote.
Below his post, he'd included an image of what the system saw when he tried to get back into his house. The camera had mistakenly identified the face of the Batman on his T-shirt rather than his own.
Luckily for him, he was able to open the door with his PIN and his wife and child were indoors to assist him. However, Batman clearly won't be allowed into that household if he ever decides to visit.
In another story, a Tulsa homeowner named Roger Cook has had a tenant lock him out of his house. The tenant refuses to leave.
"This man was invited to my house by my daughter, and he won't leave," Cook said. He also explained that the man was homeless at the time of the invitation.
Cook can only stand outside the front of the home that he's owned for 22 years on South Detroit Avenue feeling helpless. He's knocked on the door repeatedly for 3 days to no avail.
"I have a key to the deadbolt, but the doorknob is really old. Of course, I didn't know this was going to happen," says Cook.
Cook wrote a lease agreement, which the man signed on August 10. It states that he would rent the home for no longer than 3 months and pay $300, in addition to yard work.
However, the tenant hasn't fulfilled his duties and Cook wants him out. The Tulsa County Sheriff's Office can't get involved because they said this was a civil matter between Cook and the tenant.
Cook has started an eviction notice to try and handle the situation lawfully.
Please fill in your e-mail so we can share with you our top stories!