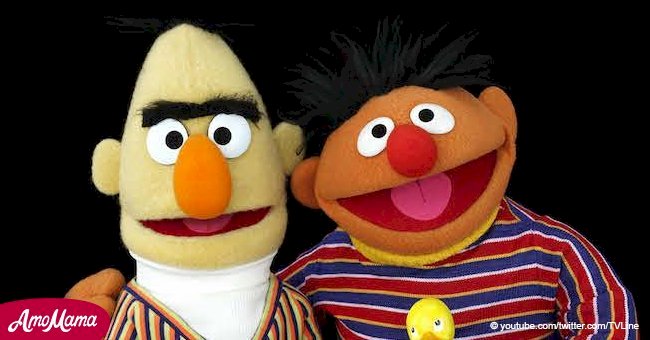 'Sesame Street' stars Bert and Ernie were called gay, but here is the final answer by creator
Puppet characters Bert and Ernie from "Sesame Street" had their sexuality questioned after a recent interview with one of the show's writers.
In an interview with Queerty published three days ago, writer Mark Saltzman hinted that the two popular puppets might be gay.
Read more on our Twitter account, @amomama_usa. Saltzman had been working as a writer for the show since the mid-eighties and said his life influenced the characters. He said:
"It was the Bert & Ernie relationship, and I was already with Arnie when I came to Sesame Street. So I don't think I'd know how else to write them, but as a loving couple."
He also said that years ago, a pre-schooler asked his mom if Bert and Ernie were lovers, and the story made the crew members chuckle.
"I always felt that without a huge agenda, when I was writing Bert & Ernie, they were [gay.] I didn't have any other way to contextualize them."
In response to his interview, the Sesame Street official Twitter account released a statement to the opposite effect.
They explained that Bert and Ernie "are best friends, [...] created to teach preschoolers" about friendship. They added:
"Even though they are identified as male characters and possess many human traits and characteristics, they remain puppets, and do not have a sexual orientation."
Puppeteer Frank Oz also took to Twitter and said that it is fine if Saltzman feels the puppets are gay, but "they're not, of course."
That being said, the puppet duo has been depicted as gay in popular culture throughout the years, most notably in the New Yorker, which showed them cuddling.
Two years before that, netizens submitted a petition with nearly 11,000 signatures to have the characters marry. That same year, the producers reiterated that they were just friends.
The duo is iconic in many ways, whether that is opening the debate about sexual orientation or being recreated in a remake of "The Fresh Prince of Bel-Air."
Yes, that's correct. The show adapted Will Smith's "Fresh Prince" intro for their show, and it was released back in August.
Fans of the show rushed to the comment section with a YouTube user known as Gab Tellez saying: "I bet will smith watched this and he burst out laughing out loud."
Another user said he would be disappointed if the intro wasn't played at Smith's 50th birthday bash, and many asked why the remake wasn't done in the nineties.
More recently, Sesame Street creators sued actor Melissa McCarthy for attempting to appropriate the iconic character sin her latest, racy movie, "The Happytime Murders."
Please fill in your e-mail so we can share with you our top stories!